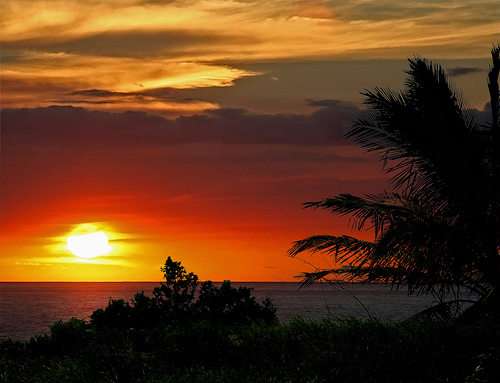 Pin pricks on supine limbs
send micro electric currents
through resting nerves.
Depleted, sun-drenched senses surrender
to sweeping and steadfast heat.
Lilting local tunes echo from a distance,
reflections of peace radiating on rippling
sea of placid blue.
Prickly tingles fade with the sundown-whisked
froth of lavender, red, yellow, orange and pink,
a horizon of harmonious hues –
a burst of divertimento,
eager yet ephemeral, blanketing a
sea of placid blue.
Cable news on the tropics
tell tales from worlds away,
faint, foreign yet familiar.
The view from my lanai, a pinch of perfection –
an interruption embraced,
letting go for a moment that the opposite is true
on the shores beyond the deceptive
sea of placid blue.
+++++++++++++++
I'm linking up with a brand new poetry site called the d'Verse Poets Pub, founded by the fabulous Brian Miller and Claudia Schoenfeld.
image by Automania