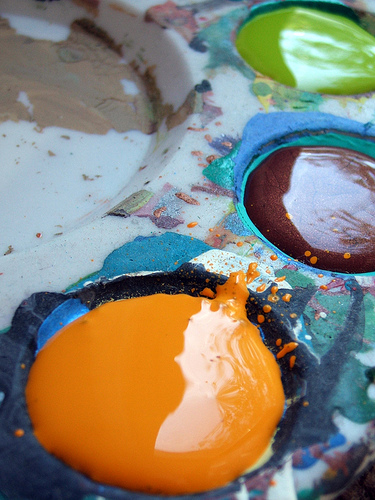 Life has been your art. You have set yourself to music. Your days are your sonnets. ~Oscar Wilde quotes
If there's one thing I'm grateful for in my recent revelations about life, it is my belief that life is art.  Thanks to a few family members and mentors, I've come to this realization that has so far surpassed all other analogies.  It certainly beats "life is a battle", "life is a game" or "life's a b*tch".
Life is art.  How does this little statement sit with you?  Think about it for a minute with no judgment…
For me, there's something about the fall season that brings this sentiment home.  The artsy-craftsy side of me begins to stir.  The part of me that wants to pick up a paintbrush and express myself on canvas, or make homemade films, or bake a bright yellow lemon tart awakens with excitement.  I wonder if you've experienced this.  Is it the scent and crackle of fallen leaves?  Is it the crisp, holiday atmosphere that promises warmth and good cheer?  Or maybe it's the women, men, children and babies bedecked in earth-tones of chic fashion statements?
Whatever it is, I like it.  I like how it infuses me with a renewed sense of possibilities about myself as a creator, as a maker, as a producer.  It fills me with reassurance and a can-do attitude that, with a little effort and time, and a dollop of inspiration, I can paint a colorful picture, knit a warm sweater or capture a tender moment in a photograph.
LIFE AS ART IN THE KITCHEN
Let's take cooking as an example.  We all know there are fine chefs around the world who create edible artistry many of us can't resist.  In our own kitchens, we have the same capability whether or not we acknowledge it.
When we work in the kitchen, we have our tools handy, we have our ingredients ready, and we generally have an idea of what we'll be cooking.
Much as we do in life, in the kitchen, we make adjustments.  Run out of cumin?  Ask your neighbor for some.  Cilantro all dried up?  Substitute.  Soup too thick?  Add water and let simmer.  Wanna give your dish an extra kick?  Add a special spice and voila!  You have a secret recipe to pass on to the next generation.
Whether we like it or not, sometimes, our souffles will fall flat.  Other times, we might burn our hands or our fingers or our tongue.  Yet more often than not, with a little heat, a little salt, a little stirring, a little love, we can turn a simple meal into a memorable feast when shared with loved ones.
If life is like cooking, what is your special ingredient that gives it that extra flavor?
LIFE AS A NOVEL
As we write each page and each chapter of our lives, we introduce characters and events that help enrich our story.  Some characters are colorful, some are challenging, others are heroic, but they all add richness to our lives just the same.  Some events we experience are unexpected or even unwelcome, while others are much-anticipated, celebratory and momentous.
And yet there are times when page after page, nothing seems to happen…no interesting character appears, no important date looms on the horizon, not even a typo jumps out at the reader.  Boring.  Uneventful.  We wish we had a different book.
If this is ever the case, it might be wise to drop our pens, pick up our spirits and just be.  Just like in life, every great writer knows you have to take a hiatus once in a while.
If you're in the midst of living your novel, what makes your plot thicken?  If life is a novel, what story are you telling and to whom would you like to tell it?  Are you a mystery?  Sci-fi?  Romance?
LIFE AS A DANCE
If life is a dance, do you salsa or merengue?  Or perhaps you crump or waltz?
Like all other art forms, dance as an expression can be intimidating to a novice.  Professional dancers have a way of making every lift, kick and step look graceful, light and effortless.  Yet we only have to attempt to do a mid-air split once and we quickly learn that our hip action, our alignment and our balance can't be faked no matter how well we fabricate our confidence.
Add music to every movement and it starts to feel less syncopated and flow more freely.  Add a partner (or more) and the chemistry becomes ever richer, fuller, more intriguing.
Yet, even seasoned dancers bruise themselves when they miss a step.  Other times, they break a bone or an ankle.  But, much like in life, most wounds heal in due time and the injured dancer will re-emerge, perhaps even better than before.
CRITICS

If you have no critics you'll likely have no success. ~Malcolm X
As every artist knows, no good art will not be criticized.  Same with life.  Create something controversial, you'll be criticized.  Make avant garde music, you'll be criticized.  Innovate, you'll be criticized.  Do nothing, you'll be criticized.
I highly doubt that we'll ever live in a critic-less world, so why not make art that compels us from within?  Why not cast aside some rules every now and then and experiment a little or a lot?  Why not create what we create and let critics praise or criticize as they please?
LIFE IS ART
Life is art.  Art is hard work.  Life is hard work.  But with a little effort, a little time, a little willingness, in life and in art, there's plenty of room for flashes of brilliance.
In art, as in life, there are egos.  In art, as in life, there's an endless opportunity for collaboration.  As we all know, art is best shared with others.  Much like life.  There may be bumps, burns, or broken limbs, but with a bit of cooperation, the synergy from working together, making art together, could result in a masterpiece.
Shall we give it a try?
YOUR ARTISTRY
If life is art, what is your medium?  What is your message?  What is your muse?
Art enables us to find ourselves and lose ourselves at the same time. ~Thomas Merton
Image by blockpartypress