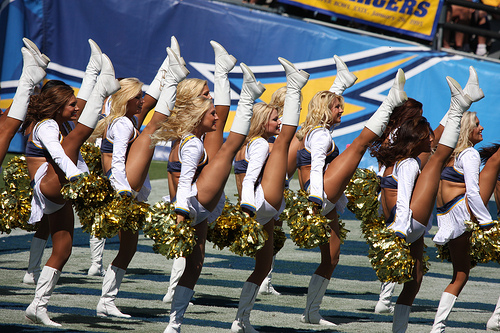 Whether you're a grown man, woman or a baby, chances are you've encountered pom-poms either actively or subliminally.  Pom-poms, you ask?  Yes, pom-poms, I say.
UNDERSTATED PROMINENCE
No, they don't have the overt prominence that buttons, studs or even grommets enjoy.  But whether or not you're attuned to their seeming ubiquity, they have earned their permanent place in many facets of our lives as peppy pieces of somewhat silly doodads that arguably add cheer to otherwise ordinary objects.
From peeking out of athletic ankle socks, to sitting atop hand-crocheted unisex caps, to adorning the seat of a snuggly stuff animal, pom poms put a perky pouf where there once was nothing but pedestrian plainness.
At dinner parties, they spruce up our table settings as flower-like decorations handmade from tissue paper by those among us who are craftier than others.
POM-POM POWER: PANACEA OR PLACEBO
At high school or college sporting events, no match is complete without chirpy cheerleaders and their poised-for-action pom-poms.  The rustling sounds of these balls of synthetic strands extend and express the electric energy of the eager adulator.
As the cheerleaders pound and pulse their pom-poms, the crowd responds with pumped up passion, keeping the sagging spirits of the losing team from sinking to the very bottom.
Not unlike the power of choosing positivity, pom-pom power is both a panacea to the faithful believer and a placebo to the unconvinced skeptic.  As a faithful believer's panacea, it works its magic to keep morale and motivation at mountain peak.  As a placebo to the unconvinced skeptic, it loses its luster and stops working to prevent an eventual loss in a game or in life.
POM-POM PARADOX
The jury's still out on pom-poms.
As a clothing embellishment, it's not nearly as enthusiastically embraced as lace, sequins monograms or applique.  As a tail on a stuff animal, the believability of its rendering is limited.  On a teddy bear, dinosaur, turtle, doggy or kitty cat, a pom-pom tail is nothing short of a mockery.  On a sweater zipper, it's often annoying and superfluous.  On a coat or a jacket, it adds an unnecessary illusion of heft; an unwelcome feature at a time when sleek lines and svelte figures are still the gold standard for healthful fitness.
And yet, it is impossibly cute as a tail on an Easter bunny.  It's justifiably jaunty on a fashionable bright red knit-cap worn on a breezy afternoon bike ride.  And in the hands of a lively cheerleader, you gotta admit, they add undeniable verve and zing to spicing up a happy hooray.
So then, why is it that we don't go about our daily business with our belts, scarves, shoes and pom-poms?  I mean, we all could use cheering up from time to time couldn't we?
Is it because we believe the hype of our illusory self-sufficience hook line and sinker?
Is it because we humans don't readily admit our desire and our need for supportive cheer?
Is it because we're so stuck in our seriousness and  that we think pom-poms are just silly and annoying?
Is it because we think it's only acceptable to display and receive boisterous, pom-pommy cheers at sporting events?
Or is it because in the absence of a field or a court or a ball, we don't always know when to offer support?  We don't always know how to ask for support?  We don't always believe we deserve to receive support?  We don't always know how to admit that we could use some cheering on?  We don't always know the power we possess to lend a helping hand?
Or perhaps, pom-poms, like human beings, are still evolving, still developing their form and functionality, and are exactly where they need to be in the universal time-space continuum.
++++++++++++
What do you think?  Wouldn't you instantly lighten up if someone pulled out a pom-pom from their bag to cheer you on and cheer you up?  Would you consider having pom-poms at the ready and pulling them out at the appropriate time?  How would you like a world where, pom-pom or no pom-pom, we all knew about our dependence upon one another as well as our immense power to help others?
++++++++++++
Image by San Diego Shooter