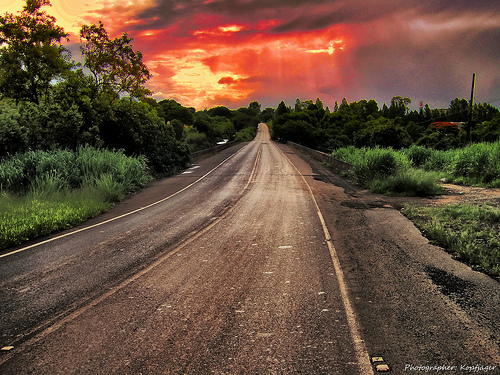 More and more, I've been thinking that this is a trick question.  Want to know why?
CLUELESS
There's a scene in the movie called Clueless by director Amy Heckerling where Josh (played by Paul Rudd) is giving Cher (played by Alicia Silverstone) driving lessons around Beverly Hills.  Josh accuses Cher of having no direction other than toward the mall.  Cher gets defensive, but later secretly considers if this statement is true.
At the time when I first saw this movie in 1995, I didn't question Josh's judgment of Cher.  Cher's lack of ability to drive seemed to extend beyond operating a vehicle.  She seemingly favored the fluffy things in life and didn't appear concerned about her future beyond what cute outfit to wear the next day. 
LIKE CHER
Looking back, I'm convinced that we're all a little bit if not a lot like Cher when it comes to mapping and navigating our proverbial road. Well, sure.  Some of us are groomed to become the next something or other.  And yes, some of us have very little trouble getting an education or a job or whatever else seems like the logical next step.
But how many of us are now living our dream future exactly as we envisioned it in the past when, say, we were five years old? Ten years old? Fifteen years old? How many of us predicted twenty years ago that we would be where we are now?
DIRECTIONLESS
I don't mean to burst any bubbles, but it seems to me all this direction talk doesn't exactly lead where it purports to go.  Some of us follow said direction; not missing a turn, obeying all traffic rules, making pit stops when appropriate, and paying toll as required.
And yet.
When we get to where we thought we wanted to go, ooops, suddenly it's not all it's cracked up to be.  This  much hyped up destination isn't all love, laughter, puppies and cupcakes like the commercials or billboards say.
Oh, no. There's pain, suffering and loneliness at the top. Yup. And guess what?  There's more.  There's a feeling of isolation worse than being on Alcatraz.  There's this not-enoughness that sticks to our skin that no exfoliating concoction can peel away.  And the emptiness?  It sometimes feels like a gaping hole almost big enough to see through to other destinations we could've picked.
How is this possible?
I don't really have an answer for you.  And I'm guessing (aren't we all?) neither do you for me.  As far as I know, we're all walking wounded, wondering, wandering.  I'm on this vast road, just like you, where we sometimes get a flat, get rear-ended, get sideswiped or get pulled over.  If we're lucky, we might bump into kindred souls who have a faint clue where we've been or where we're going.
THEN WHAT?
Forget direction? It's one option. Take humanitarian and writer Greg Mortenson for example, the subject of the books Three Cups of Tea and Stones into Schools. He didn't set out to promote peace by building schools in Pakistan and Afghanistan when he was five, or ten or fifteen. And yet that is exactly what he does now.  He was a mountaineer, for pete's sake, who was also a soldier who had a nursing degree. His direction that led him to his life's work was, uh, circuitous, to say the least.
Direction.  Isn't this the whole reason there's so much talk about finding your passion, meaning, self? We're lucky to even know what anything is (do you know what a Director of Advancement does?), let alone what we want to be when we grow up.
Maybe it's less about doing.
I mean, c'mon.  How hard is it to do?  How hard is it really to be productive?  To get anything done?  To complete a project?  Or at least to start something? OK. I get that sometimes we procrastinate. I get that sometimes we don't act on our dreams because we're afraid.  I even get that sometimes we don't know where or how to begin.
But are we undercutting ourselves by fueling the high-priced self-help section at Borders?  We've all done things, haven't we?  Do we really need books upon books to find motivation to do things?  I'm sure I'm not the only one who's ever completed anything from beginning to end.  I'm not convinced the problem is that we don't know how to do things.
So, if it's not so much about doing, maybe it's more about being.
Being kind.
Being responsive.
Being compassionate.
Being sympathetic.
Being real.
Being loving.
Being forgiving.
Being accepting.
Being generous.
Being grateful.
Being yourself.
Being human in the best way possible.
CELEBRATION
Inasmuch as we're led to believe that our seeking can be answered by doing, still, we find that when we do, we continue to seek.  No wonder we often hear people asking if this is all there is to life.
So, here's a crazy thought: if all this doing we're doing isn't leading us toward happiness (or whatever it is we seek), then hey, why not celebrate for no reason?  Put on a glam diva outfit for no reason.  Bake a cake for no reason.  Kick off those shoes and twirl and whirl for no reason.  Break bread with strangers for no reason.  Sip good wine for no reason.  Light candles for no reason.
Because, I don't know, maybe by celebrating for no reason, we'll start appreciating being alive and stop wondering if this is all there is to life.
++++++++
What are your thoughts about doing versus being? Have you ever realized your dream and found yourself wanting more? Do you think we're all guessing, or do you believe there are those of us who truly have answers? Do you ever celebrate for no reason?

++++++++

Image by kopfjager (OFF – AWAY)