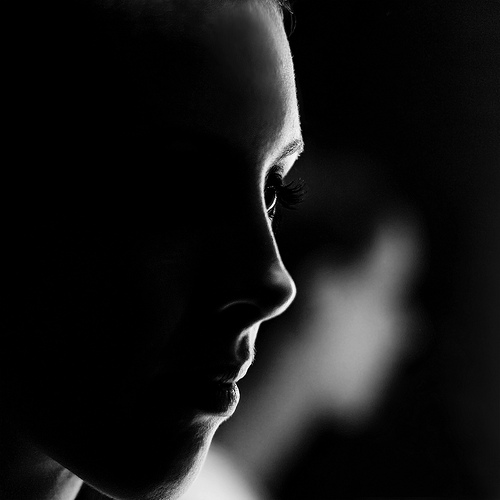 In American politics, when you run for office, you have to have a sizeable war chest in order to define yourself.  Otherwise, your opponents will define you and therefore defeat you.  It's not enough to: 1) have actual experience as a legislator, 2) know how the law works, or 3) have a decades-long record as a proven leader.   Sometimes, you may not have or be any of these three things.  But if you have the cash to get your carefully crafted message out to the voters, regardless of how good a legislator you'd make, you can win.
Is this democracy, you ask?  Great question.  This is precisely why I'm not a politics blogger.
In real life, we don't need massive amounts of money in the coffers to define who we are.  I don't need tons of experience, knowledge or a long track record to call myself, say, a blogger.  I blog, therefore I'm a blogger.
TITLES, SELF-IMPORTANCE AND ADVERTISING
But sometimes, defining ourselves can have the crazy, circus-like peculiarity similar to making sense of politics.  When change in status occurs or when our definitions of ourselves collide, the resulting confusion can lead to an identity crisis; a whacked out sense of self, if you will.
Some human-made or artificial titles and successes are bloated enough to take over our whole identity.  Take this currently-famous hip-hop artist called Drake, for example, and his idea of empowering women (his words) as he describes one of his new songs taken here:
"…It's a song for the non-famous woman to make her feel special and just to let you know that even though I'm up here and have the option to mingle with these 'upper-echelon' women, if you will, that sometimes I'd rather be with the girl from back home or a student or a girl that works at Wal-Mart. They don't have to be a star or rich or anything like that; that's kind of the gist of the song. It's an empowering song for all women."
I had to re-read this quote several times to make sure I didn't miss anything.  I wonder what he means by up here, empowering and all women…
Expensive, meticulously machinated advertising infiltrate every channel by which we receive information.  To varying degrees, we all fall prey to an expertly engineered illusion, lie, propaganda or commercial  that seemingly answers our questions, prayers, hopes and dreams.  It's business as usual for industries whose main goal is to convince us  that we want, no, need their hyped-up peddled products.
They get to our psyche by making us think they know who we are.
They get to our wallets by selling us happiness, health, fulfillment, etc.
When we believe that these things are worth having, we see possibilities as to how we can become better fathers, leaders, human beings.
But when we believe that we don't already have these charmed, coveted words as facts of our existence, that they are just out of reach and can be attained for the low, low price of $99.95 (installments welcome), something sounds fishy, doesn't it?
Still, too often we get sucked in.  (One day, I may tell you how Suzanne Somers sold me a ThighMaster many years ago.)
EVER EVOLVING
However, getting sucked in doesn't have to be our default reaction.  We don't have to forget that the allure (or sometimes siren call) of better does not mean we have to fork over our life savings or lose sight of the many facets that are part of our identity.  It does mean we have to have the willingness to see where we currently stand.
Because we're ever evolving beings, it's a given that most of us are drawn to wanting to improve ourselves.  We don't simply want to be a man or a woman.  We want to be good men and women.
Part of evolving is our capacity for reinvention.  We may identify with a label for so long, but this doesn't have to mean that one day we wake up and lose our right to pursue a different path; attach ourselves to a different label.   Think of Arnold Schwarzzenegger.  Actor one day, Governor the next.  Or, think of Bono.  Rock star one day.  The next day, Person of the Year.
GROWING INTO A LABEL
We may not all be like Bono, smudging and transcending labels and partisanship.  Sometimes, a label sticks.  Some of us are quite comfortable calling ourselves "struggling artist" long after we've been able to make a living from our art.  (Once my husband and I hired a moving company called Starving Students.  They were clearly neither starving nor students.)
Sometimes, we grow into a label.  I recall visibly cringing the first time a teacher referred to my classmates and me as "women" in the ninth grade.  I survived the year prior as a girl, was completely comfortable with this label, and hadn't anticipated that I would be called a woman after that summer.  I wasn't prepared for this new label and all the intricacies woven into this word.  But overtime, I grew into it.
RECLAIMING AND CHOOSING OUR LABELS

And now, many years later, no thanks to Drake's "empowering" words, I proudly identify with this label, woman, notwithstanding all its historic baggage and elephantine hurdles left to cross.  I grew into it just like I grew into being a wife and a mother — two other very special words I adore being called.
How tempting to call these labels just words.  Simplicity gurus may have us believe so, as though we're automatons.  But these three words are more than just words.  The make me smile, they make my heart swell, they make me want to live up to them the best way I know how.
More than that, they build bridges, linking me to every woman, wife and mother and consequently to every man, husband and father.
These basic labels anchor my existence and help me be secure in who I am.  And by being secure in these labels, I feel confident in branching out.  From time to time, I veer from woman, wife and mother so that I can dance around idealist, activist and dreamer.  And so many more.
To be able to choose our labels, I call this a blessed perq of being human.
Human.  Ahh, another label I consider a privilege to attach to myself.  And, hey, so should you.
++++++++++++++++++++++
What about you?  What do you think of labels?  What do you like to be called?  What labels do you respond to?  What are your anchoring labels?  What labels would you like to grow into?
If you're a woman reading this, Happy Women's History Month!
++++++++++++++++++++++
Image by B.Romain