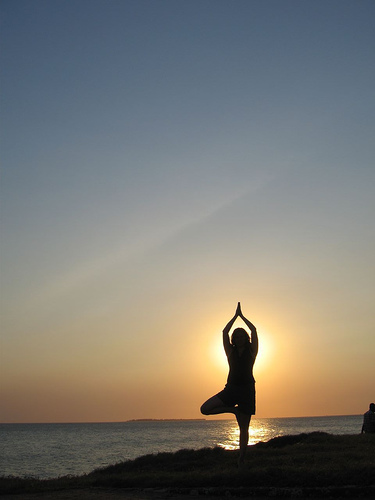 One misnomer that has always bothered me is when the word "everyday" is used synonymously with "ordinary".  By definition, "everyday" connotes familiarity which connotes ordinariness.  OK, I get it.
But for me, I like to view everyday with excitement.  Everyday is a renewed license to live by our own design; free to share our gifts with others and free to receive the blessings bestowed on us.
Everyday is our vast personal playground.  Where we have a shot at recapturing our authentic souls on the slides, swings and seesaws of life, just like when we were three years old.
Everyday is a new beginning.  And I have an affinity for beginnings because they are forgiving and full of promise.  And at times, I need to be forgiven and to believe in promises.  And to forgive broken promises.  And to promise to forgive myself.  And others.  But I digress.  I promised simple and simple you'll get.  Forgive me.
Everyday, we can choose to continue doing what we love, with and for the people we love, as the kind of people we love being.  Or, we can start anew.  Remove ourselves from the unpleasantness of yesterday, bask in our resilience as Ayo at Discovering Purpose lays out, and immerse ourselves in the spirit of rebirth that Jeanne at Dream a Happy Life so eloquently describes.
This year, as part of my redesigned resolutions, I'm making a conscious effort to add meaning to everyday.  I want to honor and celebrate everyday; make everyday extraordinary; give everyday the credit it's due.
To help me along, I've picked five guiding principles: kindness, gratitude, love, beauty, happiness.  Here are a few simple ways to help add meaning to everyday, in no particular order:
Kindness. Notice kindness in others toward us and look for opportunities to be kind to someone.
On my recent vacation, in a town where there were no visible convenience stores, my family popped into a restaurant to order milk for my son.  Not only did the restaurateur warmly let us in but he gave my son a cup of milk for free.  In a time of economic struggle, this was a kind gesture, something he didn't need to do and clearly isn't "business as usual."
On being kind to others, one example is to listen to others talk about their personal life with no judgment, offer no correctives and just let them be themselves.  It's a privilege to be let in to a slice of other people's lives.
Gratitude. Give thanks for something we're happy to have or forget we have.
Thanks to Nicki's reflections on light, darkness, cold and warmth which reminded me that I really should be expressing gratitude more often.  I'm grateful for warm winter coats.  Paved roads that spare unwanted whiplash.  Jeans that still fit after vigorous celebrating.  Choice.  Conversation.  Drinking water.  Rights.  Community.  The list goes on…
Love. Think of someone you love and smile big if you will.  Or show/tell someone you love them.
Sometimes, I'll be sitting alone and a thought will cross my mind about something my husband said and I'll just start smiling.
Beauty. Witness it not just in human-made art but also in nature, others, yourself.
Beauty is so powerful.  At its simplest form, it's stirred many souls.  And it's everywhere and free if we open not just our eyes but also our hearts.
Happiness. Do something that brings you happiness.
Again, this doesn't need to be complicated.  It could be as simple as taking a teeny-tiny step in the right direction toward a goal.  Or hearing a loved one's voice.  Or reading a page of a favorite book.  Or writing this blog post 🙂
At the end of the day: ask  one or all of the following questions:
"Was I kind to someone?  Was someone kind to me?"
"Was I grateful for what I have?"
"Did I give love a chance?"
"Did I get to do something that brings me happiness?"
If there's at least one "yes" answer, let the good feelings flow.
If the answers are "no", there's always tomorrow.  Another special day bursting with potential for meaning making, an innate human craving that Patty at Why Not Start Now tackles with great insight.
What about you?  Do you think everyday is special?
+++++++
Speaking of everyday, Aidan  over at Ivy League Insecurities is making every day of this week special by giving away a copy of Gretchen Rubin's new book The Happiness Project, one of half a dozen books I picked up in the last few days.  I haven't read it yet but Aidan, whose blog I found before Gretchen's, wrote a very convincing review of the book that I've bumped it up to the top of my pile to read.  Head on over for a shot at winning a copy.
+++++++
Image by GrahamKing