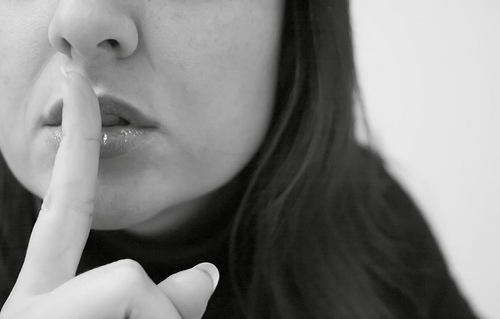 Silence at the proper season is wisdom, and better than any speech. ~Plutarch
A few weeks ago, I was sitting in a private dining room of a friend's beautiful bayside home having a lunch meeting with a real life "atrocity hunter", along with a few other wonderful people.  It was a gorgeous fall afternoon in San Francisco, a perfect day to meet someone who Rolling Stone magazine calls the "James Bond of human rights investigators".
Except, I was distracted.
Much as I tried to completely focus on "James Bond", on this remarkable man whose mission is to deploy other atrocity hunters to various countries in response to major civil wars and other human rights crises, I couldn't cut out the literal blinding flash that was ruining my concentration:  a 10-carat diamond ring, more or less.
It hugged the ring finger of one of the guests — an intelligent, accomplished, attractive woman sitting one seat away from me.
WHAT WAS GOING THROUGH MY MIND?
Let me tell you!
"Does she know we're discussing deaths and wars and poverty?"
"What could've possibly been going through her mind when she was getting dressed for this gathering?"
"Is she aware of how incongruous it is to flash such opulence?  Such ostensibly luxurious symbol of affluence when the topic of discussion is the poorest of the poor?"
Oh yeah, I was bad.  I was terrible.  You might even call me catty.  I was judging her left and right as she flailed her well manicured bejeweled hands in gesticulation.  It just about killed me as I struggled to maintain decorum in this intimate, civilized setting to stay quiet, seethingly, petulantly quiet in my seat.  Being a good non-confrontational guest.  Sucking up the bitter taste of self-imposed silenced protest.
I'm sure I made a face in my discomfort.
SORTING THROUGH THE VOLUMES OF DISTRACTIONS
If you're a passionate person like me, with convictions, principles, or what some might call major issues, chances are you've been in a similar situation where you've raged with wonder about what possessed another person to do what they did.  To think what they thought.  To say what they said.  You might even have once put your foot in your mouth, as I have so famously done numerous times amongst family and close friends, and, inadvertently, disrupted what should've been a peaceful gathering, simply to speak your piece.
Disrupt the peace to speak one's piece.
Sound poetic?  And yet, could we be doing more harm than good when we call someone on what seems to us to be an abhorrent behavior, an offensive mistake, a blatant act of cluelessness?
Don't get me wrong.
I wish everyone would speak their mind and share their wisdom.  I've learned from experience that there's something to learn from everyone, and too often, too many people sit on their nuggets of wisdom without sharing.  I'm all for freedom of speech and thought and action and all other types of freedom for everyone.
BUT SOMETIMES…
Sometimes, this freedom, plainly, can be used irresponsibly.
Freedom is used irresponsibly when we're falsely accused or accuse someone falsely.
Freedom is used irresponsibly when we're thought uncaring or think someone uncaring.
Freedom is used irresponsibly when we're mistreated or mistreat someone.
Freedom is used irresponsibly when we assume the worst when, in reality, we just might be a bit ignorant of the truth.
And when we do use freedom irresponsibly, we add to the volumes and mountains of distractions that we're each individually struggling to sort through in our own quirky, inimitable, bumbling, searching way — a way we all know can be tricky, intractable, draining, at times defeating.
If you're wondering whether or not I ever confronted the woman with the gargantuan diamond ring, I didn't.  Why?  For all I know, she could've gone to the Democratic Republic of Congo (DRC) directly and bought the diamond with her own hard-earned cash that went directly to the country to feed thousands of DRC natives for years to come.
Sometimes, silence is the way to go.
Oftentimes, judging isn't the way to go.
To be loud and wrong, probably not what we want.
More noise, certainly not what we need.
BETWEEN YOU AND ME
Have you ever put your foot in your mouth, as I have many times?  Any lesson learned you'd like to share?
Or, is there anyone you wish would practice a little silence every once in a while?
A hero is someone who understands the responsibility that comes with his freedom. ~Bob Dylan
Image by apesara