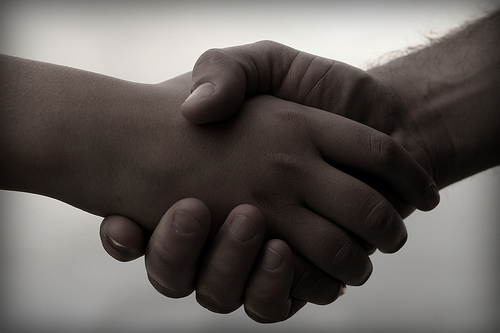 Lately, I've been examining some of my conversational patterns.  Once in a while, I get sucked in to discussions with people that my instinct told me to avoid in the first place.  I blame this on a possibly naive belief that most if not all conflicts can be resolved through discussion.
I recently had a conversation that, minutes later, left me baffled and exhausted.  It seemed at first that the subject was innocuous enough and that it couldn't possibly escalate into more.  It did.  When I thought I was listening closely, this woman thought I was reading too much into her words.  When I responded in a matter of fact way, she thought I was missing the nuances.  When I expressed that I understood where she was coming from, she countered that I did not.  When I asked questions to get a better grasp on what I might have missed, she provided vague answers.
Perhaps, I should have listened to my instinct.
This conversation clearly went nowhere.  A few minutes of precious time evaporated, enervating me and leaving me just a tiny bit leery of diplomacy.  For a brief moment.
I later chit chatted with the same woman about lighter things and in the process, restored my belief in the power of conversation as a means to promote peace.
An optimist is the human personification of spring, so says Susan J. Bissonette.  It is spring and I am, after all, mostly an optimist so, I'll take that, Susan.
I realize that I want my conversations to amount to something.  I'm open to talking, to listening, to being challenged and to being proven wrong about my dearly held beliefs (at least I think so).  But I know that in order to come to an agreement with someone, my openness, no matter to what proportion it reaches, will not compensate for the other person's lack of it.  She/he also must be equally open and willing to give diplomacy a chance.  And vice versa.
Following is my reflection on the art of conversation:
We all have something to say.
We all want to be heard.
We each have a point.
If we disagree with the point, we then have a counterpoint.
But beyond point and counterpoint,
There is a sea of baggage that obstructs the path to agreement.
There are preconceptions that prevent us from comprehending the other side.
There are blinders that blur our vision to meet eye to eye.
There is noise that plugs our ears from hearing.
There is conviction that insists on being right.
There is trust and doubt, battling it out.
Still, beyond point and counterpoint,
There is a heart that's beating.
There is a pulse that's throbbing.
There is a rhythm that's thumping.
There is a recognition that's stirring.

There is a connection that's burgeoning.
There is the possibility of partnership that looms large, if only we give it a chance.
++++++++++
Do you believe in the power of conversation?
Do you engage in conversation with people whose views differ from yours?  Is there any value in doing so?
In a difficult conversation, are sturdy answers as or more important than searching questions?
Have you ever been transformed by a conversation?
++++++++++
Image by NomadicLass