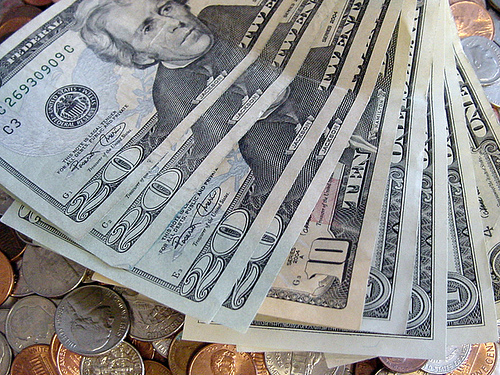 A recent survey conducted by Reader's Digest indicates that money is the main source of stress in most countries.  This comes as no surprise in light of the current fragile economy and the steady unemployment rate in the U.S. of 10% as of last month.
Add to this recent reports of brand new and unsold garments slashed beyond wearability or salability, discarded in back-alley dumpsters, and even those who are fiscally fine have a reason to worry about money: profits ill-gained through questionable business practices by retailers such as H & M and Wal-Mart.
The one reassuring thing from all this is that there's proof that at least one commonality across cultures exists.  Citizens in every corner of the globe are stressed out about money.
It's easy to get tunnel vision once we allow ourselves to get sucked in by money stress.  We start to open the door to thoughts such as:
"I could lose my job tomorrow."
"I'll never find any new clients."
"My dwindling savings account needs an infusion and fast."
"I shouldn't have been so careless about money in my youth."
"I'll never recover half of my wealth."
A veritable rabbit hole, I say.
But, like most worries, perspective check goes a long way.  While the legal tender is indeed important, there are many things that are more important than a fat wallet.
Below is a list of 101 things that are worth more than our bank accounts, in no particular order:
THINGS THAT ARE PRICELESS
101 This moment right here right now
100 The horizon that promises another day
99 The light that follows darkness
98 Sunlight and moonlight
97 The rain that follows a drought
96 Mother earth and the fierce yet nurturing qualities of nature. Those who contemplate the beauty of the earth find reserves of strength that will endure as long as life lasts. ~Rachel Carson
95 Our very special place on earth
94 The seasons within and in nature. In the depth of winter I finally learned that there was in me an invincible summer. ~Albert Camus
93 Our history and memories
92 Our future
91 The good in you.  Be not simply good – be good for something. ~Henry David Thoreau
THINGS WE COULD STAND TO DO MORE OF
90 Rest/Sleep
89 Play
88 Dream/Daydream
87 Care more about others
86 Care less about matters of superficial value
THINGS RELATING TO YOUR SPIRITUALITY
85 Grace
84 Meditation/Prayer
83 Soul
82 Inner Peace
81 Faith
THINGS THAT ENHANCE YOUR IDENTITY
80 Your character.  Character is much easier kept than recovered. ~Thomas Paine
79 Your words. Words are more treacherous and powerful than we think. ~Jean-Paul Sartre
78 Your thoughts. The ancestor of every action is a thought. ~Ralph Waldo Emerson
77 Your knowledge. Perplexity is the beginning of knowledge. ~Kahlil Gibran
76 Your actions. The great aim of education is not knowledge but action. ~Herbert Spencer
75 Your humility. Humility is attentive patience. ~Simone Weil
74 Your talents
73 Your story
72 Your worth to yourself
71 The fire within you
OUR ABILITIES AND CAPACITIES
70 Our capacity for intimacy and connecting with those like us and different from us
69 Our capacity for growth, exploration, learning and enjoyment at the halfway point of whatever path ir destination we may so choose
68 Our capacity for grace under pressure
67 Our capacity for rising above mediocrity
66 Our ability to awaken and thrive
65 Our ability to love and be loved
64 Our ability to solve problems, make decisions and be innovative
63 Our ability to inspire and liberate ourselves and others
62 Our ability to become vessels for brilliance
61 Our ability to co-exist and get along with others

THINGS RELATING TO YOUR RIGHTS
60 Your right to ask questions
59 Your right to seek answers
58 Your right to fail and succeed as often as you're willing to put yourself out there
57 Your right to equality
56 Your right to vote
55 Your right to make mistakes
54 Your right to sit anywhere on the bus, thanks Rosa Parks
53 Your right to buck the system
52 Your right to choose
51 Your right to pursue happiness
50 Your right to speak your mind
49 Your right to dance and laugh at the edge of darkness
48 Your right to chase the blues away
47 Your right to start a revolution
46 Your right to care for yourself and those you love
THINGS THAT BOGGLE THE MIND
45 The plethora of beautiful and wondrous creatures in the universe
44 The universal laws
43 The solar system
42 The human body
41 The seven wonders of the world
THINGS RELATING TO YOUR SENSES
40 Music. Music in the soul can be heard by the universe. ~Lao Tzu
39 Mindfulness
38 Sense of pride
37 Sense of adventure
36 Sense of belonging
35 Sense of purpose
34 Sense of community
33 Sense of humor
32 Sense of self
31 Common sense
THINGS WE HAVE AND LOSE AND FIND AGAIN
30 Compassion. Our task must be to free ourselves by widening our circle of compassion to embrace all living creatures and the whole of nature and its beauty. ~Albert Einstein
29 Creativity
28 Loyalty
27 Trust
26 Confidence
25 Enthusiasm
24 Dreams
23 Hope
22 Wisdom. A fool thinks himself to be wise, but a wise man knows himself to be a fool. ~William Shakespeare
21 Your originality. Whether or not you strive for it, there is only one of you and there will never be another you.
LOFTY NOTIONS
20 a) Integrity. One of the truest tests of integrity is its blunt refusal to be compromised. ~Chinua Achebe
20 b) Values. Open your arms to change, but don't let go of your values. ~Dalai Lama
20 c) Principles. Rules are not necessarily sacred, principles are. ~Franklin D. Roosevelt
19 Your essence that is impossible to define, capture or replicate
18 Freedom
17 Truth
16 Time
15 The beating heart
14 Mind/Rational thought
13 Body
12 Peace
11 Love
THE BASICS
10 Gratitude
9 Kindness
8 Resilience
7 Laughter
6 Intuition
5 The five basic senses
4 Peace of mind
3 The people who love you/The people you love
2 The air you breathe
1 Your life as your art
Image by stopnlook