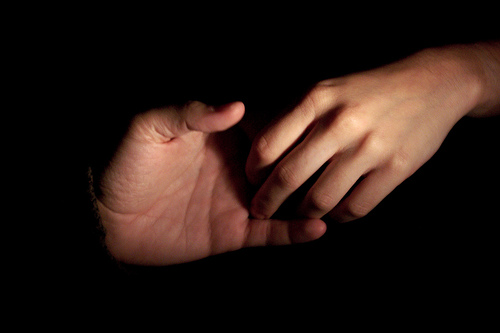 All evolution in thought and conduct must at first appear as heresy and misconduct. — George Bernard Shaw
Like many of you, I know how tempting it is to be discouraged by humanity.  We wage wars, colonize and destroy indigenous cultures, corrupt our government, become envious of other people's good fortune, experience schadenfreude, embezzle, extort, cheat, lie, kill, steal, the list goes on and on.  It can be tough to sing humanity's praises in light of the despicable evils in which we knowingly and willfully engage.
A MAJOR SHIFT
But for a while now, I've been sensing what appears to be potentially a major shift taking place in society.  It's very encouraging.  I wonder if you can sense it, too.
I haven't seen a lot of proof or statistics but that may be due to this shift being unprecedented and taking place in real time.
What am I talking about?  I'm talking about a shift in a lot of people's way of life to make a conscious choice to do better; to become better.  It's a quiet movement, not a shout-through-a-megaphone revolution which makes me think it's really happening.
Here are some some of the changes that I have observed lately:
1) Becoming better consumers. We are becoming more cautious and more discerning consumers and in turn, becoming more reluctant luxury and impulse buyers.  We are asking astute questions that are aligned with our deeper values before we open our wallets.  We want to know:
"Do I really need this?"
"Can I do without?"
"Is this sustainable?"
"Could I borrow it from someone?"
"Can I get this used?"
Not only are we rejecting goods of poor quality and low cost-effectiveness, we are also examining each purchase more carefully as we pay closer attention to our intrinsic values that simply cannot be bought with money.
2) A rise in environmentalism. I was fortunate to have attended Al Gore's then-powerpoint presentation (later turned into a mega-hit documentary An Inconvenient Truth) at Stanford several years ago.  In just a few years, climate crisis awareness penetrated the mainstream and hit a tipping point becoming a globally recognized issue today.
I applaud the Millennial generation when it comes to caring about the environment.  In this area, they are wise beyond their years.  Many of them live a low-impact existence and think of saving the planet as their personal responsibility.  Many don't drive, buy only sustainable goods that are necessary, eat low-impact foods and don't consume beverages in plastic bottles.
Other generations have also caught on to the fervor of the Millennials' environmental consciousness and activism.  Many companies that sell sustainable products and organizations that provide services with a focus on low environmental impact results are founded by GenX'ers or Boomers.
In just a few weeks, the U.S. Senate will have a chance to pass a comprehensive climate bill giving the nation an incredible opportunity to be a bold leader in reversing the effects of climate crisis.
3) An increase in volunteerism. This is true not just among adults who have more time on their hands due to unemployment.  Today, about three in four American teens have done volunteer work within the past year.  This is a significant rise compared to 1996 when six in ten teens did volunteer work within the past year according to a study by Independent Sector.
Among adults, the number of volunteers increased by 1 million between 2007 and 2008 according to the Corporation for National and Community Service based in Washington, D.C.  This is right before the economy officially tanked.  In light of the recession and unemployment today, I'm betting this figure will increase exponentially when the next set of statistics come out.
4) An increase in women's rights funding, advocacy and activism. In 2002 when I worked for the Women's Funding Network, a non-partisan non-profit coalition of national and international foundations focusing grant making toward increasing women and girls' rights, there were only 90 member organizations.  Today, seven years later, this number has increased to 145 spanning six continents, a total of $465 million in collective working assets, moving $60 million per year in global investment in women and girls.
In Half the Sky: Turning Oppression into Opportunity for Women Worldwide, Pulitzer Prize winners Nicholas D. Kristof and Sheryl WuDunn illustrate the transformative power of help and hope.  Kristof and Dunn write about three women, a Cambodian teenage sex slave, a Zimbabwean mother of five, and an Ethiopian sustaining injuries in childbirth.  These women, with a little help, built a successful retail business, earned a Ph.D. and became an AIDS expert, and healed her injuries and became a surgeon respectively.
5) An increase in leadership among women rising to power as heads of states. It hasn't happened yet in the U.S., but a number of other countries are electing women presidents for the first time.  Liberia, Lithuania and Chile come to mind as some countries that have elected their first female president within the last few years.
This is encouraging because it means:
a) more and more women are finding their voice and using it and participating in the election process
b) men in other countries are viewing women more and more as equals and as viable leaders who can offer solutions from a point of view that complements that of men's.
Women, as mothers, sisters, daughters and caretakers, can provide an enhanced and holistic view regarding education, health care, economy, agriculture, the environment, childcare, care for the elderly, etc.
Here in the U.S., organizations such as EmergeAmerica, The White House Project, Women's Campaign Forum and EMILY's List exist primarily to focus on training and electing more women into office.
6) An increase in Hollywood activism. Not too long ago, most celebrities getting involved in a cause would only do so by endorsement or a photo op or a PSA.  Robert Redford, Bono, Jackson Browne, Danny Glover and a handful of others are exceptions for being lifelong activists.
In the past few years, more and more celebrities are getting involved in deep, meaningful and effective ways as they leverage their celebrity to help shape policy.  Angelina Jolie, Sean Penn, Leonardo DiCaprio, Michael J. Fox, Madonna, Mariah Carey, Brad Pitt, George Clooney and many others are throwing their passion, power and fame toward causes that deserve megawatt attention.  These celebrities are doing much more than is expected of them.  They are investing their money, time and reputation to effect social and environmental change in positive ways.
As someone who is decidedly choosing a life of positivity, I really want to believe this shift is happening.  Perhaps it's temporary; perhaps it's a passing fancy.  While I understand that any big change must first begin with incremental steps, wouldn't it be interesting to find out if these points hold true a generation from now?
I'd like to know what you think.  Do you agree or disagree?  What has been your experience with regard to the six points above?  Is there a trend that you've spotted that I've missed?
Image by batega