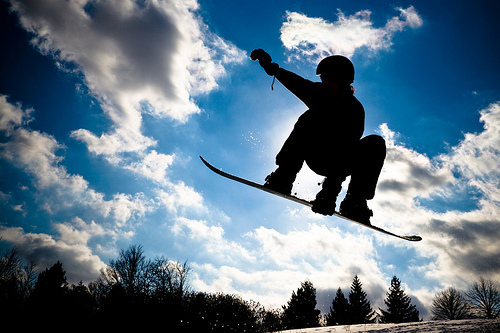 These days, it seems large-scale thinking has reached mammoth measures.  Terms like "global shift", "climate change", "universal health care" and "Twitterverse" have found their way into our everyday vernacular that even grade-schoolers can comprehend.
Whether they're real or speculation or a dream or a nightmare, one can argue that these are huge, uncontrollable beasts threatening to swallow us whole.
For some, it's impossible to connect such planetary proportions to "little ol' me" without feeling a tiny bit bogged down.
New Zealand, Uganda and London are but a millisecond away from San Francisco.
The ability to communicate instantaneously with hundreds and thousands of "followers" in limited characters is mind-boggling.
Hours, maybe even days are gobbled up mercilessly by the voluminous vortex of everything big.
For others, it's unthinkable to disengage from the universe without feeling antsy, restless or isolated.  Fingers and thumbs feeling lonely without screens to touch and keys to punch.
Aren't we so often pulled to do and re-do our To-Do lists?
Don't our dreams consume our every waking moment?
Don't our goals and our mission in life compel us to be moving, ready and reaching round-the-clock?
If we stop and think for a moment about how truly far-ranging things have become, it's enough to make our chest tighten, our blood thicken, our breathing quicken and cause our anxiety level to rise.
For sure, big bucks have been made, or spent, or changed hands around them.  Maybe souls have even been sold over them.  Perhaps ounces and pounds of flesh have been gained and lost through them.  To say that they're big business is an understatement.
It's not that easy to escape their clenching claw, their tenacious tentacles, their, some may say, chokehold.  We're lucky if we can get away to a truly rural area with no satellite, no wireless connection, and therefore no social media or cable TV, telling us tales we can't even begin to verify, fiction we readily believe without question, facts with scientific proof we don't want to believe.  And this doesn't even cover the things nobody knows.
Doesn't it all seem a bit too much, at times?
So I thought I'd take a little break from these galactic constructs and go the opposite way.  Smaller.  Way smaller.  Back to where our two feet stand.  So please, allow me to focus for a moment on the seemingly little things:
the sound of a sweet song reverberating by a campfire in the cool California wind
the crackle of kindling in a Tahoe cabin
the smell and taste of a freshly-peeled orange after a hike
the memory of a recent little triumph
a newborn baby's first cry
your mother's voice
a child's laughter
a heartfelt hug
a tender touch
In a time…
when we're constantly moving, perpetually pulled every which way,
when there's a need and longing to be in several places all at once,
when the possibilites are endless,
when the details are soulless,
when demands are relentless…
Isn't it nice to know that, at any given time, we can mind the micro meditation moments?  That we can find ourselves by losing ourselves in the little things?  It's no unwieldy beast.  And no gadgets required.
What about you?  Do you have any micro meditation moments or big or tiny comments to share?
Better indeed is knowledge than mechanical practice. Better than knowledge is meditation. But better still is surrender of attachment to results, because there follows immediate peace. ~Bhagavad Gita
Image by alexindigo
I dedicate this post to my uncle whose kind, generous and soulful presence is no longer in body but will remain in fond memory and spirit for a long time to come.
—
If you'd like to help a fledgling entrepreneur in a developing country, please consider an interest-free $25 micro-loan through Kiva by clicking here.