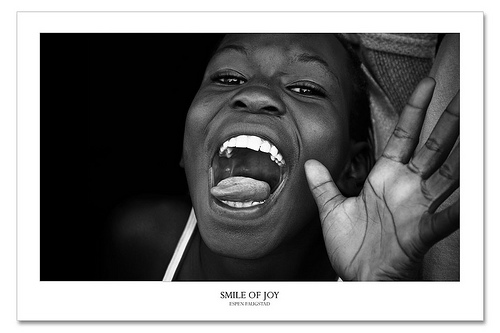 Yesterday, I had the incredible privilege of spending an entire day with a woman who is an inspiration to millions of women (and men!) worldwide. She is a best-selling author, an award-winning playwright, a peaceful warrior and an instigator of an impactful global movement dedicated to ending violence against women and girls.
CAN WE TURN PAIN INTO JOY?
This woman, a quintessential optimist named one of US News and the Kennedy School of Government's "Best Leaders" in 2009, will always say yes to this question. Always.
She certainly turned her pain on its head. Having endured an unspeakable offense as a child, she emerged joyful and purposeful with an exquisite brand of inner strength. An inner strength that nurtures and replenishes as she enduringly empowers others to turn their pain into joy.
ARE WORDS JUST WORDS?
It was an exceptional day. I wish you had been there to bear witness to experiences so profound that a blog post — mere words — simply can't capture.
Words like femicide and fistula were spoken, and I admit, my overly conditioned and mostly civilized psyche struggled to comprehend the reality of these words. Words whose existence and persistence today ask brutally confrontational questions about humanity: yours, mine, his, hers. Words that don't register and resonate without a gasp or a sigh or some kind of reaction to regulate our natural biology. Words that are devoid of subtlety, grace, peacefulness and love.
Certain words starting with the letter V were mentioned.
Some poetic words in the form of a monologue were read.
Words that only Eve Ensler can weave and write and speak so wonderfully well.
WHAT ABOUT EMOTIONS?
Were there tears? Yes. Were there laughs? Sure. Was there love? Absolutely and a whole lot of it!
After all, we're talking about a woman who wrote a new book called I Am an Emotional Creature. We're talking about a woman who has excavated her pain, sorrow,  insecurities and imperfections and morphed them into a colorful, joyful, peaceful, loving armour.
But not just an armour.
An armour-turned-blanket-turned-tent-turned-embrace-turned-sisterhood-turned-humanity at its best.
And, as gut-wrenching as  the stories are that Eve tells, you can't escape her contagious positive, feminine energy when you're with Eve. It rubs off on you. And it has, on me.
After a day with Eve, an infusion of empowerment and optimism takes over and makes me feel lucky to be alive, privileged to have opportunities and happy to be in a position to help not only myself but also others.
AND AS ALWAYS, A QUESTION…
I'd love to tell you about Eve's latest project called "City of Joy", a healing oasis that promises hope in the wounded and love-starved Democratic Republic of Congo. A place on earth whose desecration is surreal and legendary. A place whose pulse is weak; where humanity's heartbeat needs a pacemaker.
But not today. Today, I'd like to ask a question:
Can we turn pain into joy?
Please share your thoughts about this question and leave a comment for a chance to win an autographed copy of Eve Ensler's latest book I Am An Emotional Creature. Men, if not for yourself, perhaps you'd like to win it to give to a special woman or girl in your life.
If you'd like to learn more about "City of Joy", please e-mail me at belindavm @ gmail dot com.
Click here for Eve Ensler's inspirational Nov. '09 India TED talk.
Image by NoXstar