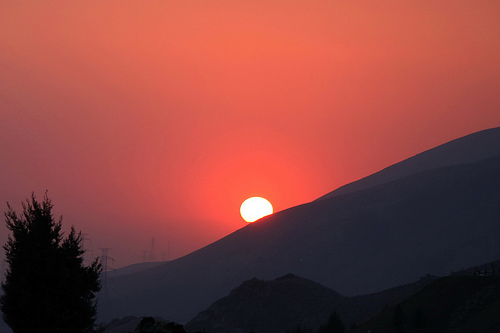 I walked into the kitchen this morning and my husband and son were having an exclusive boys-only time.  As I entered the room, they looked at me simultaneously; part mischievous, part expecting to be in trouble, and part bracing themselves for any half-clever thing I might say.
To an adoring mother and wife, it's endearing to watch husband and son, each a version of the other, playing and laughing it up, letting boyish instincts go unchecked, making the most of another rainy spring morning.

THE RUSH
In the background, the iPod played one of my husband's songs.  It's called The Passing of Time, a mellow oldie that brings back fond memories of weepy audiences cheering for an encore.
Oh, yeah. I recognized a familiar sentiment as I whizzed by the kitchen.
The rush of the day, however, pulled me elsewhere.  Away from the boys.  Away from the morning.  Away from the song.
Rush, rush, rush.
I was a busy bee.  I made the stops I needed to make.  I checked items off my list.  I got to where I needed to go.
Hours passed when, during a silent moment, the darn song reappears.  This time, the words replayed in my head in haunting verses with traces of nagging melancholy.
All your doubts and disappointments
Your sorrows and your fears
Your joys and all your glories
Whisper through the years
I should have felt accomplished since I got so much done so early, just like I had planned.
Alas, often, the shoulds are not what is to be.

THE PASSING OF TIME
As the day wore on, the inevitability of the passing of time became harder to ignore.  The mood that the song evoked would not leave.
As I reflect on how it followed me throughout the day, I marvel at how I missed the clues.
Husband and son were having a great ol' time.  Why didn't I join in on the fun?
The Passing of Time, the song, permeated the day.  I heard the words.  I heard the music.  But did I listen to the message? No.
Why was I not present?  What did I think was so important?  The chores?   The grind?  The buzzing in my head?
I don't really have a good answer.  I let precious time pass and I regret that.

HOLDING THE MOMENTS CLOSE
At day's end, when the little guy is all tucked in, I give myself a few minutes to listen to the song one more time.  Melancholy, raw and real, stirs again.
This time, I stay with it.
Why?
It would seem like a capricious indulgence to let sadness in when life can be filled with love.  And love, of which I have much, is full of life and awesomeness.  And a love-filled life is, I've come to believe, the panacea for sadness.
I know of the temptation to run away.  To hide.  To deny.  To pretend not to feel it.  To buy into the high-stakes illusion that productivity equals happiness.  To get buzzing with busy-ness, occupied and preoccupied with endless (un)important things.
But I've made that mistake before (and will likely make that mistake again).
So, while I'm conscious, I choose not to make that mistake, at least this time.
Instead, I acknowledge this real-time, real emotion with openness.  I remind myself that the best way to get over something, anything, is to go through it.
After all, time will pass and there's not a damn thing I can do about it but to hold the moments close.  And when the mood lifts, and it will with each passing moment, I will welcome the next moments that follow.
But not yet.
Not at this present time.
THE PASSING OF TIME, THE LYRICS ( by PC Munoz)
I've certainly talked about it enough so I think it's only fair to  leave you with at least the words to the song The Passing of Time.
There's a new day on the horizon
I can see the morning sun
Tomorrow has a way of finding you
No matter where you run
All your doubts and disappointments
Your sorrows and your fears
Your joys and all your glories
Whisper through the years
Every conversation
Every word you've said
Every time that you've forgotten
The sacred and the dead
All the loves that you have buried
Every sin that you've denied
Every memory that visits you
In the quiet of your mind
Chorus1
Don't know why it makes me so sad inside
It's just the passing of time
(repeat)
I swear the rocks are speaking
Singing someone's name
To dust you will return one day
'Cause from dust is where you came
There are friends I have deserted
And some friends I don't speak of
There are women I've forgotten
And some that I still love
That's why they say remember
And hold your moments close
Memorize the faces
Of the folks you love the most
Chorus2
So here's a toast to your favorite ghosts
And the passing of time
(repeat)
Raise your glass, this won't last
It's the passing of time
Don't know why it makes me so sad inside
It's just the passing of time
++++++++++++++++++
Tell me about the present.  Are you here?  Or elsewhere?
Share your thoughts on the passing of time.
Do you believe in holding the moments close?

Do you let yourself feel your feelings or do you sometimes run and hide?  Why?

Do you busy yourself in hopes of escaping your feelings?  If so, does it work?
++++++++++++++++++
Image by hapal