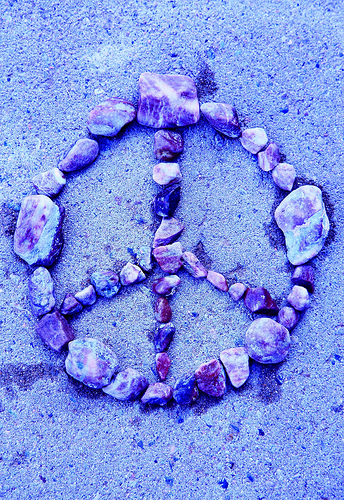 One of my favorite things in the world is to take a tiny hand in mine and follow a path wherever our feet take us.
On this particular spring day, the sun was out and our feet took us on a stroll through Japantown. The cherry blossoms were in full bloom. We dined on green cha soba noodles and raw saba. We drank hot tea and cold milk (I willfully passed on some sake being the designated driver; oh how this will change in no time). We peered through Windexed windows and admired faux food — a fun thing to do even after a full meal. We browsed picture books and giggled at silly drawings of people and animals.
We then walked outside on the grounds of the Peace Plaza. We stood in the middle of the Peace Pagoda and looked up to the top from inside. We skimmed its concrete octagonal perimeter until one of us bumped into a tree branch and lost our balance gracefully (me). He laughed a hearty laugh as only Momma can make him (yeah, right).
And then he asks me, Momma, what's peace?
Having been primed by his Daddy on a response to this question, I answer, It's when everyone cooperates, sweetheart.
That was sufficient for the time being.
Until story time came that evening before bedtime.
As I read the Sound of Music to him (e-Bay score, thanks to his Daddy), he hovers on the page of the book with a picture of a red, white and black Swastika flag, also known as the war flag, where I casually turn the page to the next which, again has the same picture only this time, Captain Von Trapp is pulling on said flag with a less-than-peaceful look.
Then came the second challenging question of the day, Momma, what's war?
Having the wherewithal to stay consistent, I said, It's when no one cooperates, sweet boy.
Everyday since then, this tender soul has asked Momma and Daddy about peace and war.
What does it mean when no one cooperates?
Is the American flag a peace flag?
Why do people fight?
Peace. War.
Two words I fear I'll never be capable of discussing without emotion. Or with ease.
In print, the ensuing meaning of these monosyllabic words sit on opposite sides of the spectrum; contrasting starkly enough not to confuse a three-year old.
In practice, these concepts appear to inhabit the same space, battling for the same air time and not so far apart from each other after all; interweaving intimately enough to confound a thirty-something-year old.
As strong as my convictions are regarding peace and war, I'm not much different from my boy as we share many of the questions he asks.
And as strongly as I believe in peace, its premium and its possibility, I wonder if war really has no value; not in the lessons we learn on an intellectual level and not in the way it drives us toward peace . I wonder if the the price we pay for the principle of striving for peace at all cost is the same as preventing war at all cost. I wonder whether I'm qualified to speak of war having never actively fought in a war.
Tomorrow, I can only hope that my son will continue to ask more questions. Why war? Why not peace? And I hope, that by doing so, he, too, will come to dwell, as I have more or less, in a semi-comfortable place of ignorance, devoid of proof, where hope and faith have a fighting chance.
++++++++
Do you discuss peace and war with friends?  With your children? If so, what do you say? Are peace and war topics best left in an academic setting? Can disagreements ever be truly settled? Does anybody know what diplomacy means?
++++++++
Image by Pink Sherbet