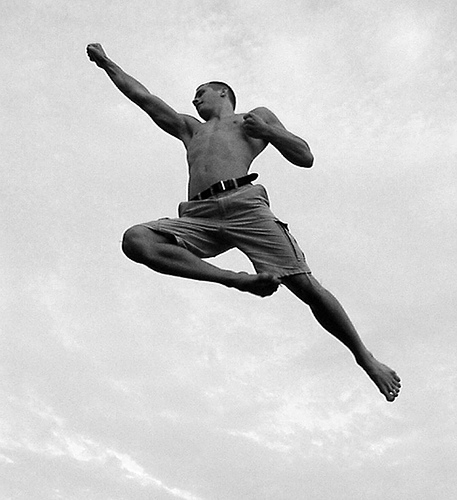 We love our superheroes. If the blockbuster ratings in movie theaters were any indication, it would not be too strong a word to say that we're fanatics for displays of supernatural abilities of good overcoming evil.
As a child, I recall seeing my first Superman film and marveling at how he would prevent disasters of cataclysmic proportions. Geeky Clark Kent had an inimitable way of transforming into hubba hubba heartthrob and showing up at a scene just before total destruction ensued. No challenge was insurmountable, that is, unless he was falling to his knees at the sight of a piece of glowing green rock called Kryptonite.
Being the audiences eager for entertainment that we are, we suspend our sense of reality and willingly give in to this world of pure fantasy. We don't get too hung up on how uncomfortable those skintight Lycra costumes would be to have on while battling bad boys from outer space. We don't get overly critical about the lack of science that supports any preposterous premise because, well, that's simply not the point of watching a superhero film. The point, often, is to achieve that feeling of redemption. That triumphant feeling of seeing a humble farm boy use his otherworldly gifts and blossom into a hero. That and the feeling of catharsis from watching incredibly awesome fight scenes.
In real life, my guess would be that many of us would retreat from any actual fight scenes that unfold before our eyes. In real life, there is no evil from outer space. There is no six-pack sporting, tights-wearing, building-leaping hero to save the world from destruction. And any elements that make us fall to our knees are most likely substances of our own design rather than from another planet.
There are, however, folks who do good in their own quiet and decidedly un-showy way. They are the everyday heroes in our midst that don't cause a scene, don't make the front page of The New York Times or the eleven o'clock news, and most definitely don't wear capes while doing their thing.
We really don't have to look so hard to find these everyday heroes. They're everywhere. They could be our neighbors, our colleagues, our friends, our barista, ourselves. The real challenges are: whether or not we recognize them when they're staring us in the face, whether or not we can appreciate the incremental changes that they contribute to the greater good, and whether or not we can accept that big changes — the ones we long for, lose sleep over and dream about — require our active participation and take place at human, not superhuman, speed.
++++++++++++++++
Do you have any favorite superheroes?  Any favorite everyday hero?
Who tends to inspire you more: superheroes or everyday heroes?
++++++++++++++++
Image by Bohman