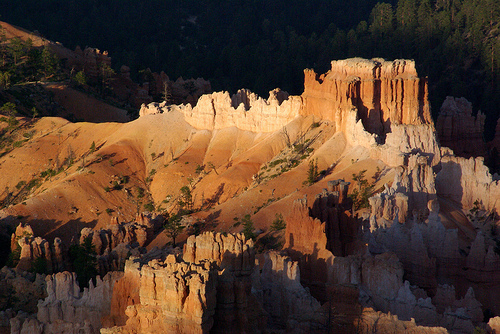 I'm sure I'll be Monday morning quarterbacking about the SuperBowl, the half-time spectacle complete with human glowsticks, and the Dorito-dipped fingers commercial. But not here. I watched an even more compelling show this past Sunday. Thanks to director Danny Boyle and local Palo Alto talent James Franco, the movie 127 Hours will be keeping me off large rocks for a while.
127 Hours is a breathtaking film about Aron Ralston, a mountain climber who tells of his experience being trapped alone in a crevice of a remote canyon in his autobiography Between a Rock and a Hard Place. Boyle, the self-proclaimed cinematic Hollywood outcast who brought us the wildly successful Slumdog Millionaire, draws out a magnificent Oscar-nominated performance from Franco. Set in the majestic canyons of Utah, Franco explores complex human emotions from cocky determination to delirious desperation when Ralston loses his physical freedom during a fall that leaves one arm pinned between a loosened boulder and a canyon wall.
As a viewer, I was pulled into Ralston's harrowing vortex of an adventure as his sanity and physicality are stretched to treacherous edges. Certain scenes knocked me out of my comfort zone visually and literally squirming in my seat, preferring to bite my fingernails and plug my ears instead of being subjected to further graphic and mental assault.
How badly would you want a second chance? What would you be willing to do in order to survive? Are you mentally and physically prepared to choose between two objectionable options? Ralston didn't have the luxury of time to answer such questions in that cold and hidden spot during those gruesome hours. Me? The movie confronted me with similar existential questions. I'd prefer these questions to be hypothetical and not requiring urgent attention, though in cases of illness or accident, we don't always get to choose. For now, I am thankful to have a lifetime to try and get the answers right.
+++++++++++++++
Seen any memorable movies lately?
+++++++++++++++
Image by IvyMike