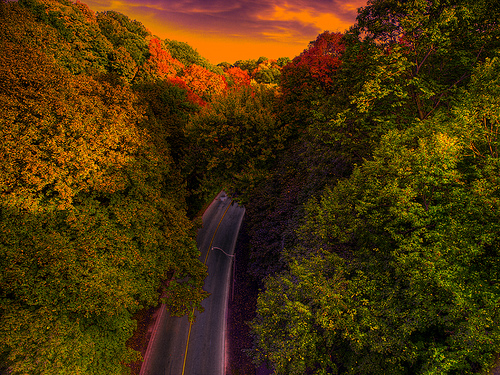 It was a moonless night. The house was so quiet I could almost hear my thoughts echoing in fear. Sweet boy was deep in dreamland and you had to be somewhere far. I, a jumble of nerves, worried about you getting lost, losing control of the vehicle or coming up on a patch of broken highway. Did you eat? Are you staying awake? Did your phone run out of juice? Where is the joy in traversing unfamiliar ground alone on a dark, starless night? But of course, this was only my perspective as I was not with you. And how I dislike it every time we have to be apart! I not only am used to being with you; I actually still love your company after all these years. You later came home, with a hug, a kiss and an intimate chuckle, assuring me you were just fine on that drive. You had music, solitude and the open road, needing nothing more.
silhouettes of hills
undulating to sounds of
strings and beats combined
+++++++++++++++++++++++++
This is a haibun for One Shot Wednesday. A haibun is a combination of short prose strong in imagery and at least one haiku. In a haibun, the haiku does not have to relate directly to the prose. It is up to the reader to see the link between the two.
+++++++++++++++++++++++++
Image by paul (dex)