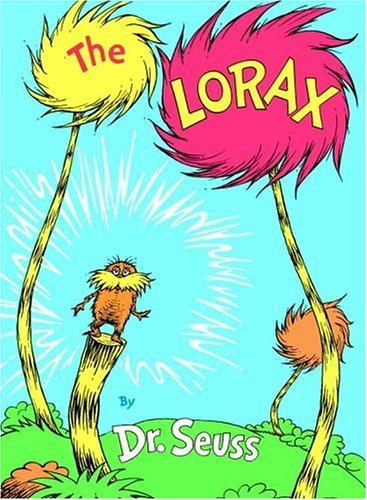 SNIVEL AND SNEER
Has cynicism gotten the best of us?
Or perhaps it's hipsterism gone awry that is to blame.
I'm referring to the poor reviews the movie version of Dr. Seuss's classic The Lorax, directed by Chris Renaud and Kyle Balda, written by Cinco Paul and Ken Daurio, has garnered since it was released recently.
The New York Times refers to the film as "…a noisy, useless piece of junk…" and "…loud and hysterical".
NPR says, " the movie is broad and raucous and rather campy, and the songs, among them an ironic celebration of capitalism, barely pass muster".
The Minneapolis Star Tribune posits this, "for a message film about conservation, the bulk of the movie is inert filler."
THUMBS WHAT?
Critics who dole out negative reviews would rather show off their clever, linguistic chops than elucidate the readers as to why every parent, grandparent, aunt or uncle who has a school-age child, grandchild, niece or nephew might want to hit the theaters and don those 3D shades. Is it because they secretly know that what they do is parasitic in nature and it's incumbent upon them to create an aura of credibility around their work any way they can? Does putting someone else's work down bring their status up on the food chain? Isn't it just a little suspect that critics dealing in the print and radio business have so much to say about filmmaking?
I can only hope that artists, creators and doers will continue to forge ahead on their often solitary path while keeping in mind what Eleanor Roosevelt said, "Do what you feel in your heart to be right – for you'll be criticized anyway. You'll be damned if you do, and damned if you don't."
EIGHT REASONS TO SEE THE LORAX
Anyway, back to The Lorax. Here's why I think the film is worth seeing:
To feel hopeful. This movie will make you feel hopeful because despite all the schloppity-schlopp we continue to tolerate in the media, despite the loud, clanging voice of climate deniers, somebody bothered to deliver Dr. Seuss's message of environmental stewardship in a format that engages modern children. Isn't this a message we can all, at the very least, appreciate passing on to our children and their children?
To share a magical experience with a child. The songs are sweet, the colors are vivid and the children will be captivated to watch one of their beloved books come to life.
To dare to imagine. Many critics point their thumbs down at the additional characters introduced in the film that are clearly not part of Dr. Seuss's original work. But is it so bad to improvise and embellish a work of art that is largely based on imagination? A film is obviously a different medium compared to a book and the book version will remain a book, undiluted and untouched. If we're at a point where we look down on imagination under the guise of "preserving a classic" or for any other reason, then perhaps it's time to inhale the scent of the Truffula tufts.
To remember that actions have consequences. In the film as in the book, the Once-ler chops down all the Truffula trees until there is nothing left to chop. What follows is a mass exodus of the Once-ler's family, the Brown Bar-ba-loots and the Lorax himself. We feel a deep feeling of isolation that descends upon the Once-ler as these dwellers move on in search of a friendlier environment.
To compel us to make good on our promises. The Lorax gives the Once-ler a second chance despite his obvious money-grubbing ambitions when he first arrives in the land of the Truffula trees. The Once-ler makes a prototype of his invention called a Thneed, a product that functions as a shirt, a hat, a sock, a glove, etc. When the orders pour in at lightning speed, the Once-ler breaks his promise and devastates the town with smog and gluppity-glupp until the very last Truffula tree is chopped down.
To see the colors and the grays and to stop looking for black and white purist motives among those who are doing something good. The boy, who in the book is unnamed but in the movie is called Ted, receives the last Truffula seed from the Once-ler after a few visits from his town, the walled-in Thneedville. His determination to plant a tree is fueled not by an overwhelming desire to green Thneedville but rather to win over the affection of a girl named Audrey. The end result of successfully re-planting Truffula trees from the very last seed trumps any questionable, hormonally-driven motives that may have inspired Ted.
To acknowledge what we are and what we pretend to be. Let's not pretend we don't live in a capitalistic society. There is much profiteering going on no matter how much a book, a song or a story condemns buying and selling. And any critic or viewer that points out the cross-promotional opportunism around this film is missing the point of the story.
To stop neglecting our role in protecting our environment. Those of us who are fortunate to live in homes know what to do to keep our household running smoothly. We hire cleaners, gardeners, plumbers, etc. to help with necessary upkeep. Why, then, would we not do all that we can to keep the earth healthy, clean and cared for properly? Those who insist on politicizing environmental concerns may be forgetting that, at the moment, science and technology have not yet enabled us to move to an alternate planet if and when we reach the point when the earth has finally had enough of us. To quote the famous line from the story, "Unless someone like you cares a whole awful lot, nothing is going to get better. It's not."
Whichever way the tree leans, this film is appropriate and great fun for children even if their chaperones might snivel at the preposterousness of inhaling bottled air or sneer at Ted's snowboarding grandma.
+++++++++++++++++
What good movies have you seen lately?