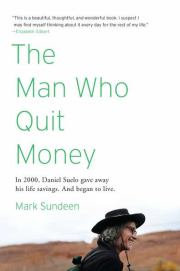 Earn it. Save it. Grow it. Spend it. Give some of it away.
These are more or less the basic lessons we learn, directly or indirectly, about money. Whether cash or charge, use of money for a necessity or luxury is as automatic as any natural reflex. Though we don't all start from the same place and don't have equal access to it, we do agree that the legal tender avails us of the goods or services we seek.
This is the system we have in place. Some of us like the system and benefit from it far more than others. While we may question its fairness or the hierarchy it creates within our societal constructs, subscribing to it is wholly practical, widely accepted and largely assumed.
But then a man like Daniel Suelo comes along and defies the currency system as we know it. Mark Sundeen's The Man Who Quit Money is a book about an endearing fellow named Daniel Suelo (nee Shellabarger) who quit money in 2000 and found abundance by living by the principles of freely giving and freely receiving — the gift economy.
Suelo's story engages the reader in a philosophical discourse. He paints a compelling argument, wins it by presenting us with practical proof, but somehow does not make the reader feel defeated or inferior. He challenges us to consider the compromises we make. He confronts the blind eye we turn and the hypocrisy we live with while, in the process, daring us to imagine a seemingly ideal alternative — yet one that he shows us is possible.
I suspect every seeker will find something to love, if not at least respect or admire about Suelo. He's a handsome foraging philosopher who volunteers at a women's shelter. His compassion compels him to pose as a pharmacist delivering babies in Ecuador while on a Peace Corps stint. His sensitivity causes him to mine his personal funds in his already-emaciated wallet for a bus fare for another man in search of a better life. He draws out the generous, gift-giving nature in people he meets who are moved to give him food, shelter or anything else he might need.
His strident idealism, refusal to compromise, and tested and re-tested faith in the generosity of the universe liberate him from societal conventions that trap many of us. He cares little, if at all, about how people see him. He works, provides services and volunteers his time, but does not accept any money for it. His way of life, though appealing on many levels, appears to be highly impractical. And yet I find myself wondering: is it where we are headed as more of us acknowledge the ever-growing cracks in our systems, as more of us feel the spiritual pinch (or is it punch) of quiet acquiescence, as we further evolve?
Daniel's rejection of his Christian fundamentalism upbringing takes him far away from home to Thailand and India to practice eastern religions, only to heed the words of the Dalai Lama's sermon of going home. So home he went. In so doing, he expands his definition of home by being able to call home anywhere he finds himself, whether it's in a cave in Moab or napping in a hammock in a friend's backyard.
This book is about so much more than money. If read with an open mind, it invites us to assess many aspects of our existence, from the food we eat, how we nourish our minds, our impact on earth, the luxuries we perceive as needs, our need to have possessions, the way we define home, to the truths we seek, turn away from or live by.
++++++++++++++++++
Non-disclaimer: I did not get a free copy of this book for this review. I was merely browsing the bookstore this past weekend when this book jumped out at me. I couldn't put it down. I may have lost precious sleep; totally worth it for the inspiration that I suspect will stay with me for some time.
++++++++++++++++++
Additional info: Suelo has a blog called Zero Currency! Click here if you'd like to read his writings.
++++++++++++++++++
Do you think our currency system works?
Can you relate to Daniel Suelo?
Can civilization go back to the gift economy?