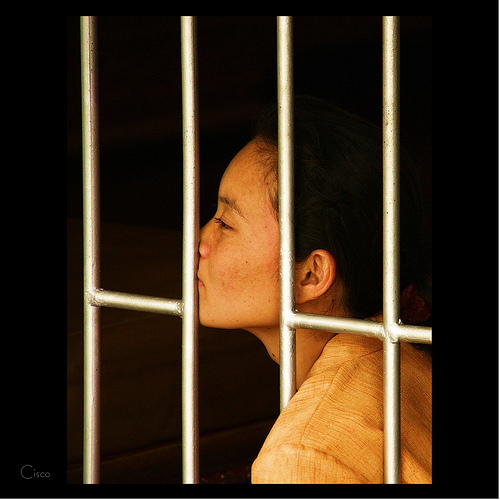 "I am only one,
But still I am one.
I cannot do everything,
But still I can do something;
And because I cannot do everything
I will not refuse to do the something that I can do."
— Edward Everett
Have you ever witnessed abuse between a couple or perhaps a parent and a child?  Did you feel it was wrong?  If so, why?  Did you do something about it?  If not, why not?
I have seen abuse take place in public.  A few times.  Each time, I didn't get involved.  Each time, I had mixed reactions.
Once, I almost called the police on a couple caught in a yelling match.  The situation bothered me enough to want to do something.  But I hesitated because I didn't know how long it would take the cops to arrive at the scene.  I didn't feel certain it was the right thing to do.  I wasn't quite sure it qualified as abuse.  There was loud yelling and demeaning talk, but there was no slapping, or kicking or punching, or any kind of physical violence.  I couldn't determine if the police would think it was worth getting involved in.  And frankly, I couldn't say for sure it was my place to judge their relationship.
DESENSITIZATION AND FEELING POWERLESS
"The only thing necessary for the persistence of evil is for enough good people to do nothing." — Amnesty saying, unknown origin
In examining my ambivalence, I realize two things:  
1) We get desensitized to the bad things that surround us for a whole host of reasons: because the abundance of bad things around us is staggering, because we can't escape it unless we opt to fall completely off the grid, and because we inevitably grow a thicker, tougher skin in order to cope and survive. 
2) We doubt whether our actions will yield any fruitful result.  The more common reasons for these are: because we've done things in the past that produced no apparent outcome, because we've had great ideas/intentions that didn't materialize, because we've counted on others who failed to do their part.
HOW MUCH ABUSE OF BASIC HUMAN RIGHTS IS ACCEPTABLE
But all this examination of uncertainty is not the point of this post.  What I'm interested in doing is to raise questions about what violations of basic human rights we've come to accept and how we begin to recognize them again in our immediate surroundings.
As human beings, we are all equipped with survival instincts.  In simplistic terms, if threatened, we find a way to survive that threat, or die trying.  But I wonder, is it enough that we activate these instincts only if we ourselves are in an immediate threat?  What about in the case of witnessing threat to others?  To a loved one?  To a stranger?  Do we not have reactions like alarm or sympathy or fear for the victim?  Why do we sympathize when we see a stranger in danger?  Why do cases like Annie Le or the victims of Phillip Garrido interest us so much?  Why do we sympathize?  What do these sympathetic feelings mean?  Do they remind us of our connectedness in some way to these victims?  What should we do as individuals, as a civilization, when other people just like us are victims of human rights violations?
Washing one's hands of the conflict between the powerful and the powerless means to side with the powerful, not to be neutral. — Paulo Freire
I wish I had called the police.  If I had, perhaps they would've arrived in time to stop the yelling.  Perhaps, the couple would've realized the damage they were likely causing each other.  Perhaps, the bystanders who witnessed it would've been assured that demeaning your partner, or anyone for that matter, in any way, need not become acceptable behavior in society, whether in private or in public.
RAISING OUR AWARENESS
"Please use your freedom to promote ours." — Aung San Suu Kyi, Burmese Democracy Leader and Nobel Peace Laureate
While I regret not getting involved in the process of possibly saving this couple from themselves, I realize there are many situations in my everyday life where I can or even should get involved and possibly affect change for the better.
If you agree with me that no amount of human rights violation should go unchecked, let alone perpetuated, I suggest that we examine some common areas in our lives where we may be able to make improvements now.
AT WORK
"If I can stop one heart from breaking, I shall not live in vain. If I can ease one life the aching, or cool one pain, or help one fainting robin unto his nest again, I shall not live in vain." –Emily Dickinson
Is our workplace a toxic environment?
If we're the boss, do we treat our staff with basic human respect?
Do we yell or curse or speak to our employees in a demeaning way?
Do we lead by example?
If we work for someone, does our boss treat us in a respectful way?  Vice versa?
Do we feel free to use our voice when we feel the need to speak out?
AT HOME
"Spread love everywhere you go: first of all in your own house. Give love to your children, to your wife or husband, to a next door neighbor… Let no one ever come to you without leaving better and happier. Be the living expression of God's kindness; kindness in your face, kindness in your eyes, kindness in your smile, kindness in your warm greeting." — Mother Theresa
What is the dominant feeling that sustains and prevails in our home?
If we have a spouse, does he/she receive the kind of treatment from us that we wish to receive from him/her?
If we have a child, does he/she have our unconditional love no matter how difficult it may be to show at times?
IN LIFE IN GENERAL
"First they came for the communists, and I did not speak out—because I was not a communist; Then they came for the socialists, and I did not speak out—because I was not a socialist; Then they came for the trade unionists, and I did not speak out—because I was not a trade unionist; Then they came for the Jews, and I did not speak out—because I was not a Jew; Then they came for me—and there was no one left to speak out for me." — Pastor Niemoeller
Is the Golden Rule only for dreamers?
Does it have any value at all today?
Is it not worth finding out its value through practice?
If this post has affected you at all in any way, my hope is that you will examine the importance of peeling away the layers of doubt that any action on our part toward preserving human rights is worth doing.  If you, like me, have any hope of making the world a little bit better before we leave it, then shouldn't we at least try?
Recommended reading:
What are human rights?
Who are some defenders of human rights today?
"Nations will rise and fall, but equality remains the ideal. The universal aim is to achieve respect for the entire human race, not just for the dominant few." — Carlos P. Romulo
 Image by: cisco