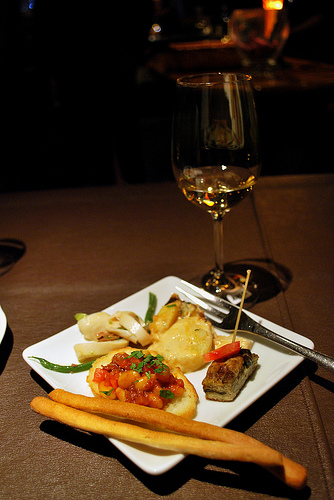 Italia!
The history!  The language!  The catacombs!  The monuments!
The mosaics!  The sculptures!  The frescoes!  The people!
The piazzas!  The capellas!  The duomos!
And, ahh, the cuisine!  Not only is it delicious and satisfying; some of the best lessons I've learned of late seem to be inspired by Italian cuisine.
Below are bite-sized bits of trattoria-inspired food for thought that I'm, uh, chewing on:
+ Stretch like mozzarella di bufala. Expanding not only our minds but also our hearts will go a long way to reaching our highest potential.
+ Be versatile like pizza. What other food tastes good with pepperoni, olives or ham and pineapple on top?  Like pizza, it would serve us well to learn to deal with whatever comes our way, not passively but in an engaged way.  Let's use lemons as an example.  If the weather calls for a refreshing beverage, we make lemonade.  If a situation requires dessert (I so want to be in a situation that requires dessert!), we make a lemon tart.  If dinner goes well and and conversation keeps flowing, by all means, pour me a shot of limoncello.  Who knew lemons could be as versatile as pizza!
+ Pack a punch like a shot of espresso. When we do something, why not give it our best shot?  A shot of espresso doesn't hold back on its effect.  Why should we?
+ Age like good vino. Wine gets better with age, they say, as do we.  I believe this.  So, swirl.  Smell the aroma.  Drink in the days, the years and the fullness of every sip.
+ Family-style rules. Everything about the Italian cuisine is meant to be shared.  So is everything else the world has to offer.  The natural resources as well as the natural disasters.  Our gifts and talents as well as our collective struggles.  Nothing is meant for hiding, or worse, hoarding.  Pass  the parmigiano, please.
+ Look to the combination of prosciutto con melone. I would never on my own combine these two ingredients together.  But, someone was unafraid to experiment with processed meat and cantaloupe in the kitchen.  And guess what, they work together!  In life, there are times when we assume certain things or ideas could never work.  Sometimes we're right.  But you know what?  Sometimes we're wrong.  What a shame it would be to discount something that we falsely misjudge to be wrong that otherwise could've turned out  great.  In other less circuitous words, tried and true is nice and reliable.  But, scary as it may seem, there lurks wisdom in staying open to things unknown.
+ Go easy on the antipasto. Appetizers are just that, appetizers.  I myself love snacking on olives and peperoncini, but the main course is the heart of a satisfying meal.  A simple antipasto platter, though pleasurable and delectable, reminds us that there's more to satisfaction in life than fluff.  Filling up on metaphorical antipasto isn't the best way to nourish our soul.
+ Gelato flavors stay true to their essence. Compare jell-o and gelato.  I happen to love both but one is more artificial than the other.  Lime flavored jell-o is  bright green but the tanginess is drowned out by the sweetness.  On the other hand, ***nocciola gelato retains its essence by keeping all the bits of pistachio in every delicious scoop.
+ Everything tastes better when dining al fresco. It's tempting to stay in when we've made our homes so comfortable.  But being comfortable is only one aspect of living and could lead to an unintended insular way of thinking.  Getting out there adds tasty flavors that aren't available at home.  So step outside of that good ol' comfort zone.  There's quite a bit of luscious action happening out there.
+ Clams are delicious in spaghetti alla vongole, but clamming up when a conversation makes more sense leaves a bitter aftertaste. Silence, as we all know, is golden.  But speaking up especially when we have something important to say is not only appropriate but also good for our proverbial peace of mind.
With that, buon appetito and I wish you una vita dolce, a sweet life!
+++++++++++++++
CORRECTION:
***A reader very tactfully pointed out to me that nocciola is hazelnut, not pistachio.  Thanks, Cathleen!  I immediately turned to husband who I very often rely upon to edit my words…
Me: Honey, why didn't you tell me that nocciola is hazelnut?  Didn't you see I put pistachio instead?
Husband: I know nocciola is hazelnut.  I'm assuming you know your nuts.
Me: I know I'm nuts but…
+++++++++++++++
Do you like Italian food?  If so, what's your favorite?
Do you cook Italian food?  If so, do you have any easy recipes to share?
Has food ever  taught you any life lessons?
+++++++++++++++
Image by [puamelia] Yumi Kimura