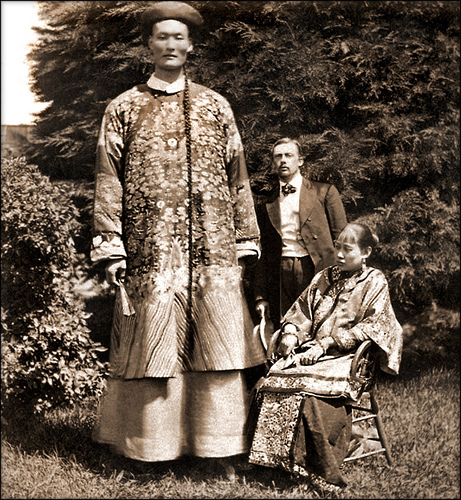 Do you remember the last time you had to be the bigger person in a situation?  Perhaps someone said something that hurt you, or you were misunderstood, or insulted or assaulted in some way?  And instead of engaging deeper, you diffused the situation before it got worse?
I believe that it's our natural inclination to get sucked in, to get pulled deeper into drama, if we give in to our emotions.  But the beauty of having the gift of intelligence, of rational thought, of free will, is that we have the ability to resist this inclination.
To illustrate a point, here's a series of admittedly vague and deliberately emotionless scenarios that I experienced recently:
Scenario A:
The other day, I made a professional decision that, after careful consideration, was the prudent thing to do.  A well-meaning woman made a mistake based on a misunderstanding.  This woman acted on an assumption, and without confirmation, inadvertently broke a social code that resulted in her feeling bad and embarrassing herself.  I drew a hard line, as needed.  Apologies were made.  The matter was settled.
Or so I thought.
Scenario B:
The following day, this same well-meaning woman sends me an e-mail recounting (heavy on the feeling) what transpired, cc'ing a third party who wasn't involved in the scenario the day before.  This third party calls me up in the middle of my workday amid deadlines; asking me questions about what happened, what was said, how things turned out.  Long story short, questions were answered.  Apologies were made.  The matter was settled.  Again.
In all honesty, scenario A was uncomfortable and awkward, but it was scenario B that stung.  It came out of nowhere, I didn't see why I had to be accountable to the third party, and harsh and insulting words were leveled at me with no basis.
It was an upsetting phone call.  But I got over it fairly quickly as, in my political world, I'm no stranger to passionate, well-meaning individuals who want to get involved, who want to do their best, who want to serve a purpose, who want to change the world.  (As  the old saying goes, "What's more personal than our politics?")
Looking back, I realize that I managed to be the bigger person in this situation.  Perhaps it's age, or experience or wisdom, but the minute I hung up the phone, breathed a sigh of relief, I was thankful it was over.  I took a meditative pause and after that, no hard feelings, no curse words, no tears.  As a matter of fact, I completely forgot about it until my husband asked me how my day went (thanks, honey).
Can we be the bigger person when someone mistakenly accuses us, or offends us, or hurts us?  My answer is most definitely "yes".  And it's really not that difficult to do.   If we're willing, we're able.  (This truism does not apply to salsa dancing.)
Here are some tips that have worked for me:
1. Depersonalize the insult (or hurtful words, etc). The way I see it, an insult is bait.  If we take the bait, then we've personalized it.  When we personalize an insult, we are choosing to invest a valuable part of ourselves (time, energy, attention, etc.) into something that won't bring us much happiness.  In simpler terms, we are choosing to be unhappy.  It doesn't have to be that way and as a proponent of choosing happiness, I lobby for a better way.  Don't take the bait.  (We can put something else that's more worthwhile on our "To-do" list.)
The trick is to not  put any weight on the insult.  Laugh it off, pay no mind to it and believe it isn't true.  If the insult is indeed true, then a) know that it's only a small part and not tantamount to the whole truth, or, b) accept it and release the bad connotation, if any, that goes with it, or, c) don't view it as an insult; instead, label it "whatever".  Any of these options are well within our capabilities; we just need to be willing to tweak our approach.
Another good thing about depersonalizing an insult is we lose the urge to level one back.  It doesn't hurt anymore when we've successfully depersonalized an insult, which allows us to focus on other more important things such as: what does the other person really want to convey/accomplish, how do we end this unpleasantness effectively and fast or is it time for dinner yet.  The sooner we can do this, the sooner we can end this upsetting interaction and have more time to focus on things that are worthwhile.
2. Give the other person the benefit of the doubt. It's possible the other person doesn't realize that they've hurled insults at us or have said something hurtful.  It happens all the time.  In their rush to get involved, they don't realize that their execution of their good intention is a bit graceless, bumbling, a little rough around the edges, needing a little finesse.  And that's certainly excusable, isn't it?  Are we not all a bit guilty of lacking finesse or expertise in the way we execute some of the things we do in life?
3. Try to understand the other person's intention. In this situation, I realized that the third-party was compelled to make a call to me because she is a friend of the person in scenario A.  And to me, that's an act of kindness which, when we stop and think, is pretty hard to get upset about!  (I would've preferred to be on the receiving end of that kindness, but still.)
It's possible that in some upsetting situations, someone will have an intention that is less than noble.  If and when we recognize this, we'll see pretty clearly that this person has some issues to work out; personal challenges that are unrelated to us.  Getting ensnared into other people's drama unnecessarily is hardly ever preferable, but when it happens as it sometimes does, we have the ability to distance ourselves from it.  How?  By reminding ourselves that it's their drama, not ours, and we always have the choice to opt out.
4. Assume that the other person means well. This may be the hardest tip that I've learned and am still learning.  When our need for self-preservation kicks in, we become focused on, well, looking out for ourselves.  But it's important to know that in most real-life unpleasant situations, people are rarely "out to get you".  It's  safe to assume that in most situations, the other person is motivated by an honorable cause.  If we're open enough, we'll be able to see what that cause is and when we do, it becomes easier to be the bigger person.
5. Let it go. The lesson of letting go can be viewed as a life lesson in prioritizing.  We can re-frame the perennial question "What do we really want in life?" into more specific terms.  Do we want to prioritize holding on to hurt feelings?  Is it of high importance to be proven right that the other person meant to offend, insult or hurt us?  Is there any value in holding on to negative feelings?  When I ask myself these questions, the answer is always clear:  No, no and no.
6. Remember that we're all doing the best we can. Maybe it's true that some of us are more socially evolved than others.  And others are more evolved than us in some other ways.  In whatever ways and rates we evolve, one thing remains true: we all don't possess the handbook to life.  There is no one right way to do things.  We do what we can.  And for all of us, no exception, there's always room for improvement.
Image by ralphrepo