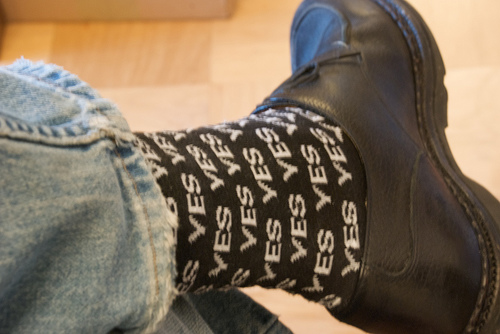 YES is the fifth and final topic for Momalom's Five for Ten.  This post is a nod to Aidan Donnelley Rowley's beautiful, debut novel called Life After Yes available in stores as of today, May 18th.
Yes.  One tiny word.  Three little letters.  Its weight?  Often not so light.  Its meaning, nuances, and the anticipation of it have been known to torment women and men alike throughout history.
THE SIMPLE YES
Oh, yes.  Sometimes, it's quite simple.  We say Yes automatically as when a helpless little baby motions to be picked up and carried.
We say Yes to our health when we opt for the celery and carrot sticks instead of the chips and dip.
We say Yes to our sanity when we shun information overload and let the mind rest.
We say Yes to peace when we choose to be the bigger person.
TREACHEROUS ROAD
But the road to Yes, the coveted kind, isn't always so simple.  Sometimes, it is downright treacherous.
Yes is a challenge to get to for a high school graduate from a poor family seeking a way out.  The Yes she covets is from a good college offering her a full scholarship.
Yes is a challenge to get  to for a single father with five children.  The Yes he covets is a way to make ends meet without having to sell himself out or any of his children.
Yes is a challenge to get to for a terminally ill child.  The Yes she covets is to live long enough to be able to see her baby brother grow up; a wish just out of reach even for the Make-a-Wish Foundation.
THE ELUSIVE YES
Yes.  So often we want it to be the answer but the question remains unknown or unclear or unasked.
What gets in the way?  Is it the thinking?  Is it the feeling?
Is it someone other than oneself?
Is it some highly renowned guru whose teachings are revered by others, so much so that one's better judgment is relinquished?
THE DREADED YES
There are times when we're afraid of Yes being the answer.
The questions?  Oh, so many.  Climate change?  Poverty?  Devalued education?  Overvalued status?  Unyielding social conventions?  Unexamined price tags?
Get-rich-quick schemes?  The fake promise of an iPad solving all the odds-and-ends tech problems?  The urge to burn cash on toys instead of more hugs and kisses?  The status symbol second home for when the weather gets hot?
THE YES DESPITE OF…
Oh, yes.  The integrity of Yes plays hide and seek at times.  Amid much muck and murmur and man-made misery.
But the questions need not be trick ones.  And the answer lies not in the word.  The answer, very often, lies within us.
To here and now?  Yes!
To laughing despite of dead comedians?  Yes!
To joy though fleeting and floating?  Yes!
To dancing at the edge of darkness?  Yes!
To love and everything that goes with it?  Yes!
To the life we already have?  Yes!
++++++++++++++++++++
What question or questions would you like to say Yes to?
Do you prefer to say "Yes!  Yes!  Yes!"  or "No!  No!  No!"?  Which one do you say more?
++++++++++++++++++++
Related posts:
Image by vanderwal