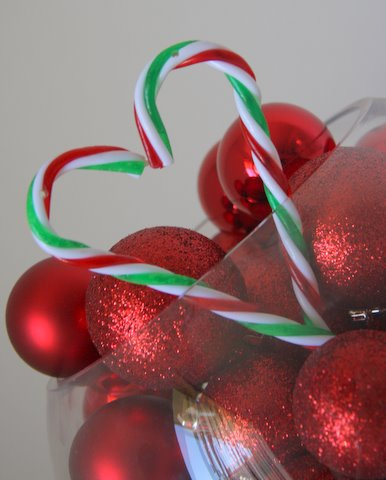 No, no, no.  I'm not looking for romantic love.  I've clinched that a long time ago.  I'm talking about something less one-on-one, more come-one-come-y'all.
First, a little background.  I've developed an aversion for shopping over the past years.  I've grown to dislike parting with fists full of benjamins in exchange for stuff that doesn't bring me any lasting sense of fulfillment, or meaning, or belonging.  Honestly, I would pay a personal shopper if I could.  Or better yet, I wouldn't buy anything at all if I could.  But alas, not in this society of consumable goods (and bads) we inhabit…
Buying gifts for others, yes, I can deal with a lot easier.
So, this year, I procrastinated on buying Christmas gifts for everyone on my list until this past weekend.
Nightmare, you think?
But wait.  Au contraire, mon frere (ma soeur).  It wasn't at all about getting elbowed and kicked and trampled and raced to the counter.  Not even once.
It was more like a leisurely stroll, a cup of chamomile tea with honey in hand, and a bevy of smiles, deep discounts and stellar customer service all around.  Seriously.  I had a very pleasant experience participating in this human-made thing we call consumerism.  I even had time to sneak a matinee in between!
WHAT COUNTS?
Maybe it's luck.  Maybe it's karma.  Maybe it's imagined.  Who knows.  What I do know is I let myself get caught up not in the madness but instead, in the true spirit of the season.  I let go of any pressure to find the perfect gift for everyone on my list.  Rather, I focused on the old saying, "It's the thought that counts."  For, in reality, it's not just an old saying.  As trite as it may seem, more than the perfectly wrapped gift, more than the amount of money spent, it's ultimately what many of us hope for, long for, and appreciate knowing.
To be thought of, to be remembered, to be included as one of many beloved ones on a list — that in itself is a valuable gift.
GOODS AND GOOD
As I meandered the paths in and out of shops with enticing windows, I saw not just goods but also good:
Shop workers bending over backwards to make customers happy.  It could be that they're paid on commission, or that their performance is under constant scrutiny.  But it was hard to ignore the sincerity among the retail workers who were eager to help, to greet me in a friendly manner and to thank me whether or not I made a purchase.
Customers were compassionate and considerate of the workers who were most likely working extended hours.  I didn't witness any angry customers; no yelling, no profanity, no dagger looks.  Instead, everyone patiently waited their turn to receive service.
Big tippers.  I saw folks giving money not just to cafe and restaurant staff but also to the poor.  Folks were slipping bills into the Salvation Army tin cans and dropping coats into bins designated for One Warm Coat.

WARMTH FROM A CUP OF TEA AND MORE
And as I sipped my cup of chamomile tea with honey, I felt not just its warmth but also the warmth of the holiday season.  A season whose magic I'm sure I've outgrown when I'm most at my logical, thinking, reasoning state.
And yet.  And yet, here I am writing about the tenderness that it brings about in others.  Strangers crowding the shops amid last-minute frenzy, checking long lists of loved ones, careful not to leave anybody out.  And here I am writing about the tenderness it brings about in me.  Too jaded to find any real joy in things money can buy at malls, but thankfully not too jaded to witness the love that's there behind the mall mania madness; the love that's everywhere, if we keep our eyes open.
If you're reading this post, I thank you for clicking and I wish you much love this season and beyond.
Image by 1Happysnapper(is trying to catch up)