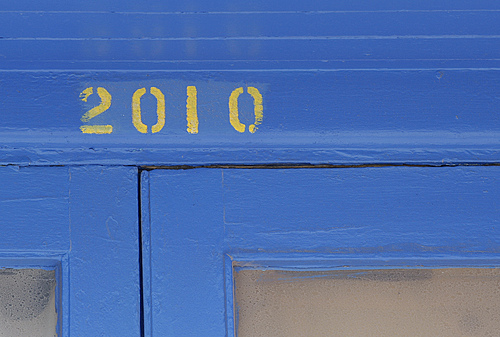 We're just a few days before a new decade, and, if you're anything like me, you've probably already made plans big or small for the coming year.  It's easy to welcome a new decade.  After all, it provides a break from all the things, good or bad, we want to leave behind and promises possibilities for exciting adventures we have yet to savor.
But a little helping of nostalgia is nourishment for the soul for several reasons.  It lets us appreciate our evolution over the years; it helps us get rooted in the present so we can appreciate how far we've come; and it guides our path into the unwritten future.
Ushering in a new decade is kind of a big deal, and I really can't guarantee that I'll be around for another new decade after this one.  So, I decided to make this turn-of-the decade a little bit special by remembering some of the things from the past ten years that are worth a second look.
I was quite pleased with the results — a sense of satisfaction, a healthy dose of confidence and an abundance of other happy feelings — that I thought I'd share the process with you so you, too, can experience the burst of positive energy I experienced:
1) HIGHLIGHTS
Recall the highlights of the decade; occasions you treasured, memories that filled your heart, moments you'd live through again without hesitation.  The things we remember first will give us clues on what we value and either validate what we already know about ourselves or serve as a reminder of what matters to us in case we've drifted.
Consider these occasions:
Births
Weddings, Partnerships, Engagements
Renewal of vows
Graduations
Rites of Passages
Chance meetings (such as running into people you know/like in another city or country)
Revelations/Epiphanies
2) PEOPLE WE'VE MET
Think of some people you've met in the last 10 years who have left you with a lasting impact.  This past decade, I met a number of personal and professional heroes who have inspired and influenced me in profound ways.  I've been "infected" by their bug of passion, determination, peace, idealism-in-action, etc.  A part of them will be a part of me from here on out.
Remember these people in our lives:
Friends and family who have always been there for us
Clients/Customers/Adversaries who have become friends
Mentors who have enhanced us
Mentees who have benefited from our knowledge and experiences
People who have challenged us in a friendly competitive way
Strangers, people we've never met in person who have touched us in some meaningful way
3) SKILLS WE'VE ACQUIRED OR TALENTS WE'VE CULTIVATED
Some skills will never be for me in this lifetime, such as basketball or playing a musical instrument on stage.  And thank goodness because I much prefer to watch a ballgame or listen to talented musicians from the audience.
Think about the skills or talents that you made an investment in and from which you are now reaping the benefits:
Learning a new language
Athleticism
Expression through art
Managing finances
Fundraising
Coaching/Teaching
Making friends
Public speaking; leading workshops; moderating panels
4) THINGS WE'VE DONE
I smile when I think back to how free I was, how eager I was to try new and daring things, how little regard I had for concerns such as retirement and how limited my sense of community was ten years ago.  Now, things are quite different.  Knowing that I wouldn't go back if I could indicates that I must be moving in the right direction.
Recall some of the things we've done that make us happy or proud:
Problems we've solved
Overcoming a bad situation
Personal or professional accomplishments
Awards/Accolades received
Followed our hearts having no doubt it's the right thing to do
Built, grown or concluded a business venture
Daring things we never thought we'd do but did anyway (screaming with eyes closed)
5) PLACES WE'VE BEEN
It's a lot of fun to relive our adventures in new cities or new countries.  Remember that crypt with all those bones decorating the walls and the ceilings in that one church?  Or how about that one trip when you did nothing to prepare a sightseeing itinerary and had the best time, anyway?
Reflect on some of the places you've been:
A place full of history, ancient architecture, or breathtaking landscape
A shrine to someone you admire
A house full of ghosts whose presence you didn't see or feel but captured vividly on camera
A spot you've never been to before yet made you feel right at home
A state of mind best left in the past
TIME
It's easy to focus on the worries and regrets that accumulate if we allow ourselves.  And as the poet Jane Hirshfield puts it, "I don't know where time is, you can't ever find it, but you can lose it."
Time.  There's nothing we can do to stop its ticking.  And yet we can fill its passing with sweet and bittersweet moments.  Moments of laughter.  Moments of joy.  Moments of growth.  Moments of meaning.
—————————————————–
And you?  Do you have any fond memories of occasions, people, skills, actions or places form the last ten years that you'd like to share?
Image by doug88888