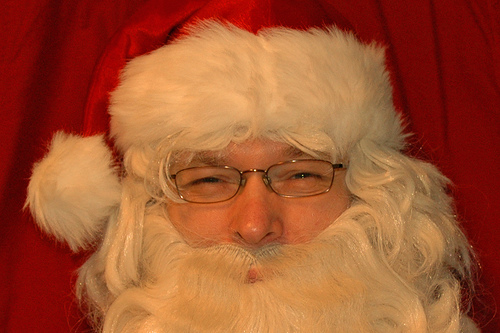 This time of year puts me in a reflective mood about myths, believing in them, and being disillusioned with them.
While I was schooled in the Christian traditions of Christmas, I'm aware that this is not exactly an all-inclusive season. The three synagogues within a few blocks of my house as well as the Asian shops on my street devoid of festive clues remind me of this daily. I won't even mention the ever-growing population of atheists who, of course, have a right to believe what they choose to believe. Or should I say disbelieve what they disbelieve? I'm ignorant on this topic so please forgive me if my words are inaccurate.
In an attempt to illustrate this reflective mood, I offer this little story:
Not exactly his first choice of destination, but on a weekend morning, he, not even three feet tall, entered a room full of brunching merrymakers. A big, darkened room, glittering balloons of gold and green, and the smell of freshly cooked bacon wafting in the air greeted him at the door. Nobody else noticed except for a few who eagerly anticipated his arrival.
There were big smiles. There were suffocating hugs. There were unreciprocated kisses.
That was a good enough beginning for him.
He remembered being there before. Exactly a year ago. The room was just as big. The guests were just as many and impersonal. But now, the occasion was no longer as unfamiliar as it was then. Still, the beginning was a time for caution.
Truthfully, he'd rather be home on a gloomy, stormy day dressed in his favorite striped pyjamas and red bathrobe his grandma made for him. Playing with brightly-colored miniature rubber bento boxes, sushi and fruits. A growing collection of prized possessions acquired by taking a trip to Japantown. And by cooperating. A true test of his growing character as he, more and more, followed his bliss and path to independence.
Minutes passed. He looked around the room gaining confidence. Like before, he wasn't meant to stay in one place for very long. He ventured off and ran around. In no time, he was laughing. Rolling around on the floor. Doing somersaults.
His momma looked on. Always protective. Always proud. Always struggling to let him go. Exactly like last year.
But this year, something was different. Though his spirit was too free and too restless to stand in a long and slow-moving line, he eagerly popped in at the very end. He knew very well what was to happen. This year, unlike the year before, he sat on Santa's red lap, alone, like a big boy. There was no smile for the camera but there was also no coaxing, no tears, no terrified looks. Only cautious, furtive glances. Calm and searching.
His momma, watching the whole time, felt a tear rise but caught it just in time. Her heart was full. She realized that something else was different from last year. She knew that this year, he believed in Santa. That this myth, to him, was real. That he would believe in Santa's magic and other myths for many years…
Until one day, he would stop believing. (Just like one day, she stopped believing. In Santa. In hope. In miracles. In giving without expecting anything in return. In the power of kindness.)
But that's in the future. A tabula rasa. A clean slate. Where much is unknown.  Unscripted. Unpredictable.
And this is today. A day when his momma indulged in existential musings. Not about the future, but strictly about the present. She reflected on Santa's gift to her this year. A very good gift. With a little help from Santa's little helper who brought her back to a place he knew so well.  A place she had forgotten.
This little helper, not even three feet tall, brought her back from disbelieving all myths to believing again that some myths can become reality. That hope is a savior to the despairing. That a miracle is taking place right now. That there are kind souls who give without expecting anything in return. That the power of kindness can breathe life to those slowly dying.
Image by Matti Mattila