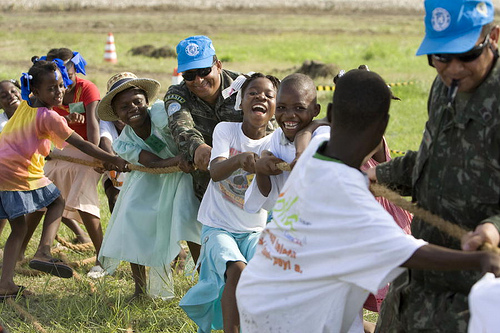 I had several ideas for this post but all of them kept pulling me back to Haiti.
News of the devastation in Haiti is a struggle to hear.  A country already one of the poorest, flattened even more.  Generation after generation.   Fraught with abject poverty, political unrest and infectious diseases.  Seemingly unable to catch a break.
I don't claim to know much about Haiti.  I first took an interest after reading a book by Edwidge Danticat in the 90s.  Then, not too long ago, I read a book about one of my heroes Dr. Paul Farmer written by Tracy Kidder called Mountains Beyond Mountains.  It's an inspirational story about the beginnings of Partners In Health, Dr. Farmer's impressive work and dedication to providing free health care for the poor, starting with Haiti and while he was studying anthropology and medicine at Harvard.
Haiti.  A land of beautiful people no strangers to hardship and dictatorship.  A place where children take turns eating cookies made of dirt; because some days, it's not their turn to fill their stomach.  An island nation intimate with cries, hunger and desperation.
Haiti.  Her land shook and the whole world shifted with Her.
And today,
as we did yesterday,
as we will tomorrow,
We will stand with Haiti and show Her She is not going through this alone.
We will continue to send aid, money, search and rescue teams, doctors, nurses and anything else She needs.
We will do whatever we can to help.
Because we can.
Because we want to.
Because Haiti is one of us.
Because this is what we did during Katrina and Loma Prieta.
Because this is what it means to be part of the human race.
As to the question of humans versus Mother Earth, it seems the worst in Her brings out the best in us.  Doesn't it?
———————————————————————
If you're interested in joining the millions of people who want to send monetary aid but are unsure how, Partners In Health is a very reputable organization with a longstanding presence in Haiti.  Click here if you'd like to give at least ten dollars.
———————————————————————-
UPDATE: I just read Kelly Diels' Help Haiti Blog Challenge and it inspired me to join.  I will make an additional $5 donation to Partners In Health for every comment you leave.  I'm curious to hear how you feel about your personal development in relation to Haiti.  Do you think you can be helpful to others even as you're working on developing yourself? 
———————————————————————
Image by United Nations Photo