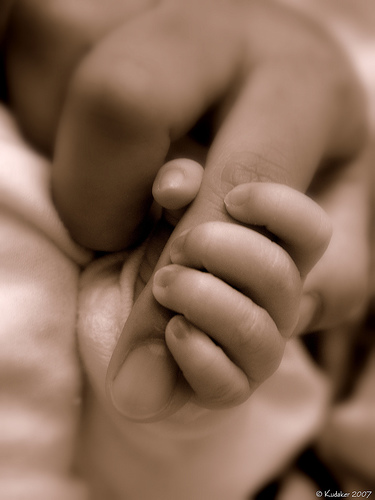 Independence. It seems the ultimate goal of parents is to guide their children toward independence.  Babies, helpless creatures that they are who never remain babies long enough, exhibit their capacity for independence as soon as their bones and muscles become strong enough to crawl.  Valiantly venturing away from where they are to where they can go.  Flirting with fences.  Braving the boundaries.  Poking at perimeters.  Exploring how far their lumbering limbs will take them.
Our whole lives seemingly revolve around gaining independence.  From our first steps, to our first swing ride, from our first camping trip to our first day of school, from our first date to our final foray away from home, each move is another step in the sequence of our growing independence.  With each step, we move farther away from where we once were to where we can be.  To be how we want to be.  To do what we want to do.
In no time, our lumbering limbs become history; replaced by powerful pillars, standing straight, solid and steady.
We cherish our independence.  We write books about it, pass legislation to promote it, and create rules to preserve it.
Sometimes, we even kill and die for it.
We cherish it above all else.
Until…loneliness finds us.  And it always finds us…feeling incomplete…wanting more…needing more…seeking more…
Transformation. Sometimes, the void is so big we're moved to act.  And when we do, each powerful pillar, in all its seemingly sublime strength, begins to soften.  Starting with the roots.  Soaked in our craving to connect, our hunger for human interaction, our appetite for attachment, no matter how uncomfortable at first, we begin to find ways to thaw what once was frozen, to infuse warmth to what once was cold.
Ever more slowly, the pillars become more like tree trunks with leaves and branches.  Swaying and bending.  Outstretched and inviting.  Reaching out, offering comfort and shade, sometimes, even bearing blossoms and fruit.
This is what transformation looks like.  One that leads us to interdependence.  A state of being from which we spend many years crawling, walking, running away.  A fact of life too easily ignored and too readily downplayed in our quest for independence.  A stubborn truth that won't go away.  Because it can't.  Because it's with us every step of the way.
Interdependence. And so, with a little livin' (and hopefully a lot of lovin'), from independence, we circle back to interdependence.
Anyone who's traveled any kind of distance knows she didn't get there by herself.  Her parents kept her alive and got her out the door.  Her teachers taught her.  Her muses inspired her.  Her opponents challenged her.  Her critics goaded her.  Her fans sustained her…
At every juncture, we are reminded of our oneness, our togetherness, our connectedness.  Without giving there is no taking.  Without followers, there are no leaders.  Without patients, there are no doctors.  Without victims, there are no rescuers.  Without charities, there are no donors.  Without criminals, there are no prosecutors.
Without one, there is no other.  Without I, there is no you.  Without each other, there is no us.
++++++++++++++++
Is interdependence a romantic notion that only foolish dreamers believe in?  Is independence more important than interdependence?  Is there hope for transformation?  Can anybody out there relate to me? 🙂
++++++++++++++++
If you support women's rights and would like some inspiration, check out this cool Girl Effect video.
If you'd like to learn about an innovative campaign to reach one million women in Africa, check out this youtube.
If you're a California resident and would like to learn about a fantastic candidate for Attorney General, meet Kamala Harris, San Francisco's District Attorney, a woman who rocks and whom I've supported since 2002.  She has written a great book called Smart on Crime that I think everyone who's concerned about public safety should read.
++++++++++++++++
Image by kudaker