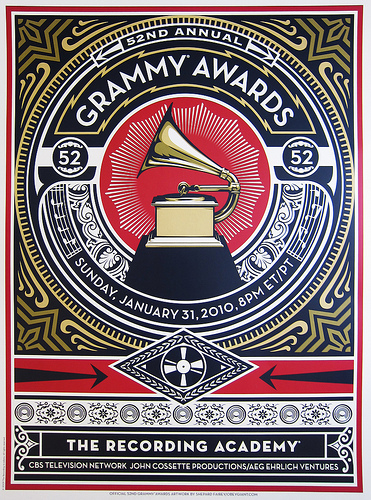 I don't deserve this award, but I have arthritis and I don't deserve that either. ~ Jack Benny
Seeing all the hoopla surrounding last night's Grammy Awards reminded me that, a year ago, I was there.  Dear husband produced an album that was nominated for an award.  I was thrilled for him when the news came that they made it on the short list, but it didn't change how I feel (or how he feels for that matter) regarding awards shows.
Ever the cynic when it comes to glaring glitterati and glamour, it didn't occur to me to join the fun until I realized my husband might like my company.  And that I might even enjoy it, too.  So, we hopped a plane to Hollywood, put on our grown-up garb, and had ourselves a terrific time.
It was dizzying to be dazzled by all that sizzling talent in the same room.  Each time a favorite came on, I wanted the experience to last just a little longer only to be cut short by someone who's equally entertaining.  At times, it felt rather like an indulgent seven course meal — too much of a good thing.  I found myself longing for a quiet, unplugged, solo, performance where I would be riveted by the lyrics and music, not by the magnitude of the manufactured momentousness of the evening.
A year later, with all the flash faded and fizzled, I reflect on that night with quizzical fondness.  I'd like to share some of my reflections and lessons I learned from this extraordinary experience:
Talent Is Everywhere. Before and during the show, I was struck by the number of people who flew in from every part of the world.  Many of them, in their own way, have reached a level of success by under-the-radar standards.  Many have a lot to offer but are still working on making something happen.  How many of them will stay in the business or will persevere to share their talents is anybody's guess.
It's All an Illusion. The spectacle seen on TV is a precisely planned production in person.  What the cameras don't show on screen are the chaos, the tension, the numerous instances of near-miss and the sheer number of hardworking people involved in getting each stage set up just so in a timely manner.  I hoped, often, that the stagehands had insurance as they carried and assembled large pieces of the backdrop merely minutes before they're used.  Watching it on TV, for me, will never be the same again.
Bigger Is Hardly Better. Prior to the show that's broadcast on mainstream TV, there was another awards ceremony for the less mainstream categories.  This was a much nicer event behind the scenes.  It was intimate, simple, elegant and felt more respectful and humane toward the nominees and the performers.  It reminded me that big, in so many ways, is on its way out.  Quality has an enduring appeal; size does not.
To Be a Celebrity Is to Be Objectified. Not that I'd know personally.  However, hearing snippets of (ok, eavesdropping on) people's conversations that both venerated and vilified the celebrities who stood onstage, I couldn't help but think how lucky I am to be anonymous.  It's interesting how willingly we use our words when the subject is perceived to be fair game.  I haven't picked up a People magazine or clicked on TMZ in a very long time, but, I suspect not much has changed.
Fame Is a By-product of Something More Substantive. It's normal to have a visceral reaction to fame, either the basic definition of it or being around the furor that a famous person elicits.  But, call it talent, or luck, or hard work, or enduring perseverance, people whose renown blow out of proportion have something substantive to offer.  Usually.  I'm sure there are exceptions.
Awards Ceremonies Are Here to Stay. I suspect that many among us question the validity of awards, let alone glitzy awards shows.  However, any institution that is designed to include an elite few, to entertain the masses, and to entice those outside looking in, wanting to be included, will be around for a long time.  Maybe someday we'll transcend our appetite for rapacious entertainment, but until then, the Grammy's will be back next year and the year after, even though many who joined the fun this year won't be.
Now that I've exposed (some of) my issues concerning fame, false idolatry, awards and awards shows, I can't wait to hear what you think!  Please share your thoughts regarding fame, fortune, celebrity, talent and anything else worth deconstructing.
Image by william couch