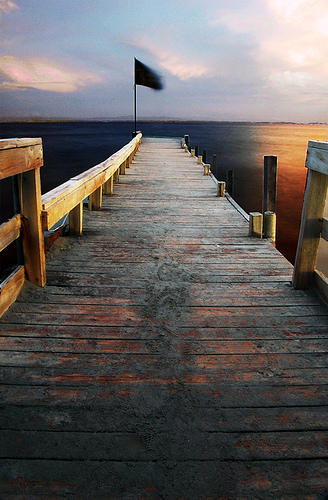 As someone who often prefers trust over proof, gut over statistics, magic over the big reveal, I believe we all serve a purpose.  If you're groaning and thinking, "Oh, boy, lecture alert", it's not.  At least I don't think so, but you be the judge.
PURPOSE
It may be obvious, it may be a mystery, but I boldly assert that we are already serving a purpose whether we know it or not.
Proselytizers who make a ton of money Conventional wisdom proffers that we have to find our purpose, our destiny, our passion.  In response, I raise an eyebrow a glass, blow a kiss and say just be.
Well, of course we're free to seek/choose/carve our own path, if we want to but haven't done so yet.  (If you're a new visitor here, choice is a biggie for me.)
But whether or not we've already found/fallen into/decided on our life's mission, our mere being is already serving a purpose to others.  Whether or not we do anything or become anything, we are already being of use to others.  Like it or not.
Intrigued?
EPIPHANY
Allow me to tell you a short story.  It was one of those less than perfect, gloomy mornings.  For no good reason, I missed having breakfast with my son and my husband.  Again.  Just like the day before.  I said hasty goodbyes to the boys.  My mood was lagging.  My stomach was growling.  I parked my car in a metered spot and sprinted across the street to my favorite French bakery called Blissful Bites.  I opened the door with high hopes for a quick chocolatey, buttery goodness healthy, low-fat muffin.
I waited a minute.  A minute became fifteen minutes.  There was only one person in front of me the whole time.
You see, this person, without even knowing it, was the catalyst for this epiphany: that we are already serving a purpose by simply being.
How?
She ordered her items leisurely.  She made unending cheerful banter with the proprietor.  She capriciously understandably needed to switch out her cup (the lid wouldn't close).  She changed her mind about her morning pick me up (she wanted herbal tea instead of a decaf latte).  She sipped and stirred and sipped and stirred again.
And then, she asked the patient proprietor this: "Do you know what time it's supposed to rain today?"
That's when I had my epiphany!
At that moment, this possibly lovely lady who didn't seem concerned at all about my time, who turned out to be very concerned about time as it related to rainfall and her schedule, served a double-purpose for me that fateful morning:  1) She made me swear never to hold up a line like that and be completely oblivious of other people's time.  2) She made me wonder if the gains we've made in meteorology can indeed predict the exact time of rainfall.
LOST IN OBLIVION
Okay, so the second point may be a little tongue-in-cheek.  But the first point — being oblivious to others, their feelings, time, existence — my gut-over-stats tendency tells me we can all relate.
Oh, and on her way out, she whacked me with her purse and didn't apologize.  I'm small but not invisible, I thought.  She must've been in a hurry.  I was relieved that she didn't seem to know I was behind her the whole time, which meant my reactions to her, um, signature style of ordering were inaudible.
If I ever run into this woman again, she for sure won't remember me.   But I will remember her.  As the woman who made me swear never to be like her when I'm standing in line to grab a quick croissant.
REMINDERS OF HOW NOT TO BE
When we're simply being ourselves, chances are someone nearby is reacting, or possibly having an epiphany.  That reaction or epiphany is a purpose we serve at that moment.
The grumpy guy at the gas station:  reminds me that I prefer to spread cheerfulness.
The able-bodied young man in a shiny Mercedes convertible who honked at the octogenarian with a cane and the tired mom pushing a double-stroller crossing the street: reminds me about patience and dignity.
The quiet loner who eats lunch at the same greasy spoon: reminds me that we all could use a friend.
Why is this a major epiphany to me?
Because I'd rather be an example of how to be, not how not to be.  My trust-over-proof inclination tells me I'm not in dreamland all by myself on this one.
And also because it reminds me once again, how connected we are, how much power we have to impact others and how much of a difference we can make without even trying.  By simply being, we are affecting those around us.  It's oddly intimidating and inspiring at the same time, isn't it?
So, back to the title of this post:  Do you have a purpose? I'm wondering if this is even a good question anymore.  Perhaps, the question should be: What kind of purpose do I want to serve?
What do you think?  Are you a heart-over-reason person?  Do you eat a full breakfast or grab a pastry?
+++++++++++++
Here are some great bloggers I "met" recently who wrote some pieces I absolutely loved that I think you will enjoy:
BigLittleWolf's blog called Daily Plate of Crazy published a thought-provoking post called  What Are You Worth? which is about a number of challenges we face today.
Phil who blogs at Less Ordinary Living wrote an excellent post full of tips for those who want to make their dream a reality called How to Make a Living Doing What You Love.

Tony who is one half of Trottersville wrote a memorable post with accompanying original art about that space we find ourselves in when we or things have to be good enough for now.

+++++++++++++++

Life is what you make of it. Always has been, always will be. ~ Grandma Moses
Image by *Edu Alarcon*