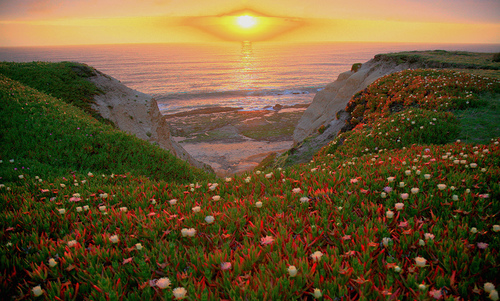 We do not inherit the earth from our ancestors, we borrow it from our children. ~Native American Proverb
This post, in anticipation of Earth Day on April 22nd, is a follow up to Our Sick Earth which presents ideas on how we can become better stewards of the earth everyday.
ARE WE HUMANS CAUSING CLIMATE CHANGE?
There is overwhelming information that the answer is yes.  This disturbing, keep-you-up-at-night reality, whether too real or too preposterous, is far easier to deny than to accept for some.  Regardless of the physical evidence and alarming statistics available that support this assertion, there will always be those who won't be convinced.  Always.
Fine.
So then, let's back away from this question and ask some new ones: Are we humans in an abusive relationship with the earth? Do we not take and take and take from her while giving nothing back? When we switch our thinking this way, maybe all the proof, indicating that our appetite for more and bigger things is disturbing the earth's balance, won't be so easy to discredit.
WHAT CAN WE DO TO BE KINDER TO THE EARTH?
There are many things I can be doing in addition to my current practices.  For starters, the junk mail needs to stop.  My nightstand is a precarious tower of mail and books that threatens to topple at the slightest nudge.  Here's a link that provides instructions on how to stop the influx of junk mail here in the U.S.
AS INDIVIDUALS, AS COMMUNITY LEADERS
There's not a shortage of things we can do to heal our ailing planet.  At the same time, being green doesn't have to be boring at all.  As you may know of my affinity for alliterations, I've created the Alliterative Daily Green Earth (working title, please bear with me):
Meatless Mondays — Forego meat on Mondays if you're an omnivore.  (credit: Integrated Archive Systems)
Telecommute Tuesdays — Skip the commute and work from home on Tuesdays.
Walking Wednesdays — Walk everywhere instead of drive on Wednesdays.
Thrifty Thursdays — Buy nothing on Thursdays.  Tip: leave your wallet at home.
Factory Farm-free Fridays — Consume nothing that is grown in factory farms on Fridays.
Sacrifice Saturdays — Give something up that doesn't do much for our planet on Saturdays.  One idea is to unplug all electronics at home including laptops.  If this idea is a success, I expect the sacrifice will turn into a blessing.
Sexy Sundays — This is your payoff after the previous day.  Open to where your imagination may lead you as long as it doesn't hurt the earth on Sundays.
For the top 50 things to do to stop global warming, click here.
This previous list is rather long.  So, if you're so green that you refuse to print said list, but your memory is less than stellar like mine, resort to the five Rs: Reduce, Reuse, Recycle, Restore, Regift.  Click here for ideas from Greenfeet.
For more ideas, click here to read what some of the readers of this blog have suggested.
AS PARENTS
Just as the earth is experiencing more challenges now than it did during our childhood, so, too, will she be in worse shape than she's in now when our kids are grown.  It is critical for parents to learn to:
Show our children what you know about recycling, composting, consuming less, etc.  Lead by example.
Teach our children how to love people, not material things.
Carpool as a family or walk or ride bikes to school and work.
Refrain from buying more toys for our children.  Instead, play sports with them or simply go on talking-walking excursions or run around outdoors.
Avoid heavily packaged products.  We can save 1,200 pounds of carbon dioxide if we cut down our garbage by 10%. (source: Integrated Archive Systems)
If we must shop, bring our own bring our own shopping bags and buy only the things we need.
Take our children to Goodwill or Salvation Army when you drop off donations.  Educate them on ways to act charitably.
AS BUSINESS OWNERS
Never underestimate your influence on your employees or your team.  There are many creative ways to foster a green working atmosphere:
Create an official, written environmental policy for your operation that includes green practices and resources.
Promote a green mindset by providing a reusable water bottle or coffee mug for each employee.
Train/Encourage your employees to participate in your operation's green initiatives.
Provide a weekly box of locally grown organic fruits.
Build a library of educational books such as Eating Animals, The Omnivore's Dilemma and films such as No Impact Man, Food, Inc., etc., and lend them to your employees.
Offer a hybrid car program whereby employees are encouraged with financial subsidy to purchase a hybrid vehicle.
Use only green office supplies and electronic equipment.
(Entire section inspired by Integrated Archive Systems)
AN ABUSIVE RELATIONSHIP NO MORE
Inasmuch as the earth gives us life, gives us the food we eat, gives us the air we breathe, it's fair to assume we do not do nearly as much for her as she does for us.  So then, What do we do for the earth?  To answer this questions, perhaps it would help to ask another question: What are we willing to do for someone who shows us unconditional love? Maybe then, we will be more compelled to love her back.
+++++++++++
Image by jurvetson