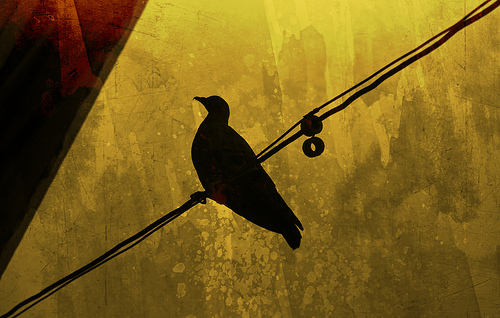 WHAT IS
We have trouble leaving what is alone.  Take Chapeau! for example.  It is a French restaurant.  If we give it more consideration, we might think about whether or not we like French food.  We might peruse its menu online. We might think about having dinner there one night.
JUDGING WHAT IS
Once thoughts and feelings touch what is, it starts to look a little different.  Judgment enters the picture.  What it is becomes personal and subject to critique and interpretation.  After having dinner at a restaurant like Chapeau!, our experience, perception and preferences begin to color our assessment of what is.  If we're easy and happy customers, we think the service is lovely and the food, top-notch.  If we're seasoned foodies, we notice if the side vegetables are seasonal or not, if the wine reduction is done just right or if the aperitif and digestif menus are thoughtful or too all over the map.
WHAT IS SUPPOSED TO BE
We do the same thing in life.  We often judge what is and inject our own spin based on personal, received or conventional standards of what's supposed to be.  If something goes wrong per these standards, we're compelled to appraise whose fault it is.
If our kid takes a fall from the monkey bars while we're wrapped up on an urgent call, we might label ourselves bad mommy or daddy, or lay blame on the ill-timed phone call, or on our kid who should've known better than to let go, or all of the above.  It takes a good number of bruising years of parenting (and for many, maybe never) to arrive at knowing and accepting that these things happen.
If we've done everything right and have followed all the steps and sound advice we've been given, we create projections and condition ourselves for a set of expectations as to where we should already be by a certain time.  If we're not there, we wonder why or perhaps we feel slighted or confused.  We may even feel like a victim (though admitting this is an entirely different matter).  This is not how it's supposed to be, we often think when something appears to have veered off course.
If a partner leaves us and says it's not you, it's me, we recognize the cliche but struggle to concede that it may indeed be them and not us.
WHAT IT MAY BE
Simple may at times be too simple.  We stumble at accepting what is because it may be too simple; something that can be a challenge to grasp.  So, we seek details or construct convoluted explanations, intricate interpretations or plain wild guesses as to what it may be.  Because sometimes, complicated is comforting.  Unlike simple, complicated lends a touch of mystery, a few variables for us to manipulate, or even a convenient hole, that just might explain why things turned the way they did.
What is can be touchy.
Sometimes we handle it just fine.  Sometimes we refuse.  Both, seemingly always, are part of the process.  Of living and of learning.
+++++++++++++++
Do we give learning enough credit for its richness, texture and flavor?  Or is getting it right more important than the process?
Does what is matter?  Or is it more important to personalize the look and feel of what is in order to make sense of it, or to transcend it, or to appreciate it?  How does this apply to work?  To play?  To parenting?  To life in general?
Is there something in your life that is great as it is?
Is it possible to live simply and thrive in a complicated world without getting caught in the fangs of frustration?
++++++++++++++++
Image by NJ..