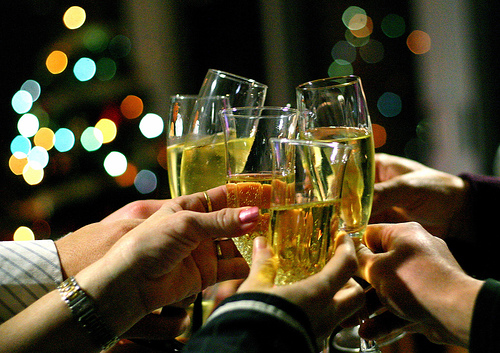 BEING PRESENT
We're all familiar with all this talk about presence or being present. We want to be able to pay attention to what's here now over dwelling on the past or longing for the future. Fine.
While conceptually I get it, the practice of it is a whole other story. It's not that I'm cynical. I'm not. I meditate, I practice yoga, I do breathing exercises. I want to live in the present. But you know what? I find being present in this context to be tricky business.I have a history and memories that I cannot ignore while nurturing high hopes for the future that, frankly, light my path when the present looks dim. So where does that leave me? Same place as always: hovering in the past, fumbling in the present, pining for (or dreading) the future.
I'm not dissing discussions of being present. I enjoy learning about how others practice it and how they work through their struggles with it. I do, however, find myself unconvinced by claims that the present is more important than the past or the future. Why? Because how would we explain nostalgia, reminiscing and lessons from the past? Well, sure, we stumble on our history lessons.  But they're there and the possibility of learning from them does exist.  And what would we make of planning and being proactive? Who willingly and easily quits trying to get their ducks in a row in favor of doing the practice of being present better?  The past can inform the present, the future can offer a reprieve from the past, and the present bridges the two.
BEING THERE
I vote to exalt a different version of presence.
As I said in my last post, my in-laws had their fiftieth anniversary fete this past weekend. I had looked forward to this event for six months. It was everything I expected it to be. But it was also so much more. I learned how much showing up means. I'm convinced that showing up, or participating, is a gift.
One guest participated by designing and supplying all the gorgeous floral arrangements.  Another guest contributed by handwriting each place card in beautiful calligraphy. One guest flew in from another state. She and I visited as she helped me assemble the gift bags for all the guests. Our time together was lovely and normal. Only it wasn't so normal because she's terminally ill and has been told by her doctor to live it up as she could pass away at any time.
As I learned more about the guests, I was touched by how much effort it took some of them to show up.  To be there. One guest left a husband, recovering from a recent major operation, under the care of another. Another guest came despite becoming widowed very recently. Another guest who is learning to acclimate to sounds after being without hearing for most of her life, showed up without her husband who suffers from panic attacks.
I don't know if I'll see any of them again. I don't know if any of them will remember meeting me. But they certainly made a huge impression on me that night. They showed me that the value of presence skyrockets to priceless when it is shared with others.
++++++++++
What does being present mean in your life?  Are you good at being present or do you find it tricky?  What helps you be present?
Do you value your presence when you show up at an event honoring someone?
What are your thoughts on being there and participation as it relates to your life?  To a loved one's life?
++++++++++
Image by Tony Blay