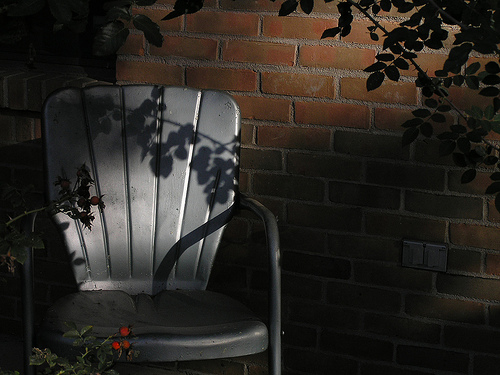 In general, I'm not very adventurous.  I would never eat bugs (not even the edible ones) on a dare.  I would never volunteer to voyage into space (not even with really, really experienced and smart astronauts/cosmonauts) for an indefinite period of time.  And if there's ever a rush to hurtle down into a ravine for a once in a lifetime interaction with Sasquatch, you'd find me many, many miles away from there.
KNOWING YOUR PLACE
I know my place.
We don't get to be adults without having some sort of idea what our place is.  Many of us find ourselves squarely within civilization, aka the grid.  We're in the so-called system, we live in a community with folks similar to us and we travel on roads paid for by our taxes en route to establishments we frequent, partaking in activities widely known to be legal, all the while obeying all traffic rules (most of the time).  Fine.
How we arrive at this place is largely a function of birth, heredity, "pedigree" and choice.  Fine.
Some of us opt to fall off the grid for any set of reasons.  These folks, to varying degrees, follow the same rules we do.  The difference is they reject many of the things we've come to take for granted (i.e. outrageously expensive organic produce, countless cable tv channels, retail anything, wholesale anything, etc.) and embrace other less conventional practices (i.e. getting drinking water from a well, foraging for food, using an outhouse <remember that memorable scene in Slumdog Millionaire?>, etc.).  Fine.
THE SCIENCE AND ART OF KNOWING YOUR PLACE
If we're on the internet right now, chances are we both have strong conventional tendencies.  You, like me, have accepted this very mainstream medium and probably get much knowledge/entertainment/gossip from online sources.  However, we remain in possession of unconventional tendencies, unique to our individuality, that separate us from the pack.  (Maybe I do a few yoga poses at 3 a.m. everyday.  Maybe you sing to your plants at 3 a.m. everyday.  I don't know.)
How we balance the mix between our outer conventional practices and respect and honor our inner unconventional leanings, the stuff within that makes us unique, and still remain true to our ever-evolving identity, is where the art and science of knowing our place join together, wrestle with each other, or take turns alternating between the two.
THE ILLUSION OF YOUR PLACE
I've used the word uncharacteristic before to describe someone (anyone) I've come to know doing something or behaving in such a manner he or she has never (at least publicly) been identified doing or being.  In my mind, I've put this person in a proverbial box (artsy, straight-laced, new-agey, etc.) and left him/her there until proven otherwise.  Guilty until proven innocent, so to speak.
We do this, don't we?  We categorize people around us in an attempt to seize control of a fraction of a somewhat-to-mostly uncontrollable world.
Until they surprise us.  I had no idea so and so in accounting is in a Shakespeare production! And just like that, the world we struggle so hard to understand once again (for the billionth time!) proves how little control we have.
But enough about control or lack thereof.
The real question is, do we allow ourselves to break out of the box(es) we may have unintentionally  put ourselves in?

Oh, I can't do that!  I'm too old for that.
I'm afraid I can't participate even though I'd like to.  I just don't have the experience.
Who, me?  I don't have the basic knowledge and I can't afford the risk plus it's such a huge investment and I can't make a fool of myself. And on and on.
Some of this may be true.  Yet, some things we've come to believe about ourselves, no matter how fervently we believe them, are nothing but illusion.
To do or be something that's uncharacteristic of us is not the hard part.
The hard part is acknowledging that this place in which we find ourselves, this place in which we've come to settle, does not have to be the place in which we stay.
+++++++++++++
How do you retain your individuality in a big-box buying/selling culture that pushes us into falling in line, or else, we don't get ours?
Do you ever want to put up a fight?  Rebel?  Break out?  Give the system the middle finger?  (What's stopping you, if any?)
Do you ever surprise yourself by doing or being something you didn't think you would/could/should?
Do you always know how things will go down where you're concerned?
Do you thrive on being able to determine what happens next or do you prefer to live the unknown?
+++++++++++++
Image by It's Greg