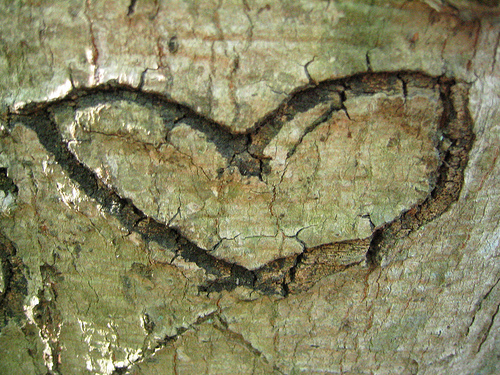 Sometimes, inspiration hits when you least expect it.  You see, last night, I didn't need inspiration to write.  I was brimming with ideas when I sat down in front of my laptop.  Then I read Tess' KINDNESS post that pushed all my other ideas aside.  And then, per Tess' suggestion, I clicked over to Lori's LOVE post and that was it for me.  Both posts blew me away.   I was filled with unexpected inspiration that I simply must go with the flow.  This flow?  It leads me to Love.
L-O-V-E
This four-letter word that is so magnanimous and so powerful we sometimes don't know what to do with it.
This four-letter word I write about obliquely and have not been able to nail.
This four-letter word that trumps all other four-letter words known to any talk show host across any given spectrum.
This four-letter word that I'm not ashamed to admit I continue to want and need despite having plenty of it.
This four-letter word that is a gift I wish for everyone I meet.
This four-letter word that is a place from which I strive to start anything I do, though every now and then, find myself resorting to last.
Why not give love a chance? 
CONVERSATION
1 Why not chat up a lonesome person waiting at the bus stop?  If you're savoring these remaining days of sunshine a-plenty by going for a walk or a run, wouldn't it be nice to exchange friendly banter with someone who's waiting for the bus to arrive?  If you never take the bus, I can tell you those ten minutes of waiting can feel like an hour when you're without a book, an iPod or magically caught up on texting, e-mailing or phone-calling.
2 Why not get out of the house, intentionally leaving any devices home that impede human contact, and be open to interacting with strangers?  Leave your partner home if you have one and go solo.  Be generous with your smile.  Make eye contact with other people who are alone and let them know they are not invisible to you.  Make sure they know without question that you see them. 
3 Why not attend a country fair and instead of shopping for holiday gifts, focus on the vendors and the artists selling their wares?  Much of these items are labors of love and in many cultures, artists are under-appreciated.
4 Why not give directions to tourists?  I see them all the time in my town this time of year.  While they may not expect to be catered to, imagine what a great feeling they would take with them knowing that locals took the time to help them out.
5 Why not read a book by a rookie author, write a great review of the book if you liked it, and write a letter to the author expressing your appreciation of their work and sending it through the publisher?  The best-sellers are not necessarily the best books.  They may have mainstream appeal but there are plenty of wonderful authors whose words are full of gems waiting to be shared with more readers.
6 Why not let soulfulness fill you once in a while instead of verbalizing on and on how you feel?  I love words.  But sometimes, words aren't enough.  If you're so moved, why not cry?  If your heart stirs, why not belt out a tune?  If you're filled with joy, why not hug someone tight?  These are not shameful acts and I secretly believe that everyone would commit these acts more often if there was no stigma attached to them.
7 Why not keep a criticism to yourself?  I am the first to admit that I struggle with poor customer service.  I can be demanding if I feel I'm not getting my money's worth.  But if it's not a matter of life and death, why not let a slip up slide?  Systems may need improving (and at times a complete overhaul) but humans are not not robots.  We make mistakes.  We have bad days.  Our errors don't mean we need an overhaul or that we won't get it right the next time.
8 Why not zap any unkind thoughts before they escape your lips?  I can understand habitual cursing — that can be a hard habit to break and that's not what I'm talking about.  I personally think thoughtless and unkind words that provoke hate, that incite hatefulness in others who listen, only cheapen that person's words and credibility.  If hate is the tone or the message, then the words are just noise.  Not worth a flying hoot.
9 Why not wish a person well?  Sometimes, I sign my e-mails Be well.  And I mean it.  It may not be an overt act of love, but it's certainly something I want and am happy to receive.  The gift of wellness.  We all want it.  This wish can be proclaimed silently or in writing or in secret.
10 Why not express concern freely if intuition tells you something's off?  Sometimes, we know something's not quite right but yet we hem and haw.  We don't want to pry.  We think it's not our place to speak up.  But before a problem can be addressed, it must first be acknowledged.
ITTY-BITTY LOVE
11 Why not hand out stickers or fashion tattoos to little children (preferably in front of their parent(s) or caretaker)?  These things make the little rugrats happy.  Why not let these impressionable souls experience kindness from a stranger that they may be old enough to remember for years to come?
12 Why not offer to lend a hand to a mother with at least one young one in tow if she appears to be struggling with groceries, or laundry or some other mundane task that are really quite simple to handle otherwise?  Moms have a big job to do with no compensation.  A little love would go a long way.
13 Why not stop yourself if you ever feel like shooting dagger looks (or worse) at a child/caretaker combo because they are cramping your style (too much talking, too much crying, too many questions, too loud, too damn much for you, etc.)? 
14 Why not play peek-a-boo with a little ragamuffin?  They are social beings and one of their favorite things to do is play peek-a-boo with strangers.  It warms the parents' hearts to know that their child plays well with others.
15 Why not let parents know if you've observed them handling themselves particularly well in an interaction with their child?  Parenting can be daunting at times and each time I've received a random compliment from a stranger, my heart swells.
16 Why not go ahead and goo-goo gaga over a newborn baby if you happen to be in the presence of one?  I do.  So many things could go so wrong in the gestation process.  Both for the mother and the wee 'un.  (Sparing gory details.)  When they both make it through alive, it's beyond beautiful.  It's a miracle.
17 Why not embrace love in a really big way and adopt a child?  There is not a shortage of orphans needing a loving home. 
18 If the above is too much too soon, why not scale back and adopt a pet?  There is not a shortage of pets needing a loving home.
19 Why not dig around and see if the child you once were is still in you?  Is she/he gregarious?  Why not coax her/him out to play?  to laugh?  to shine?
ROADSIDE LOVE
20 Why not help a petite woman (or anyone, really) stow her carry-on in the overhead bin?  I have been on the receiving end of this kindness many a time and believe me, it never gets old.
21 Why not pay for someone's bus fare?  More and more people are giving up their cars in favor of public transportation in this time of economic struggle.  You can imagine how tight and uncomfortable these buses can be.  Imagine making someone's morning for the price of $2?
22 Why not spare the air in 90-degree weather and walk or ride a bike or carpool or telecommute?
23 Why not eat locally grown foods for at least a week?  See how it feels.  If you like it, extend it to a month, a year or a lifetime, whatever makes you happy.
THOUGHTFUL LOVE
24 Why not buy popsicles for a random posse on an off the charts hot day?
25 Why not plant a tree in honor or in memory of someone through www.sempervirens.org?
26 Why not make a donation to a cause you love in lieu of material gifts for loved ones for the holidays?
27 Why not write a poem and dedicate it to someone who inspires you?
28 Why not try a No Complaint Day (or year, or hour, whatever suits you)?
29 Why not let your inner world traveler spin that globe and wherever your finger lands, why not let your inner activist learn about the issues and struggles of that country?  For starters, find out what their average income is.  Then, find out how big their average house is, what basics they may not have that we take for granted, etc.  Then, consider how awesome it is that you are alive concurrently as they are and that you could visit someday if you wanted to.  As the Disneyland song goes, it's a small world after all.
30 Why not treat yourself to a day off, one when you do nothing but things you love?
SIMPLIFYING THE COMPLEX
31 Why not believe in love?
32 Why not love yourself?
33 Why not love others?
34 Why not lift the conditions when you love?
35 Why not do what you love and love what you do?
36 Why not start and end anything you do with love?
37 Why not do all the things in the middle from a place of love?
38 Why question love?
39 Why not live like there's no tomorrow?
++++++++++++++++++++++++++++++++
Can We Talk About Love for a Minute?
Image by alykat