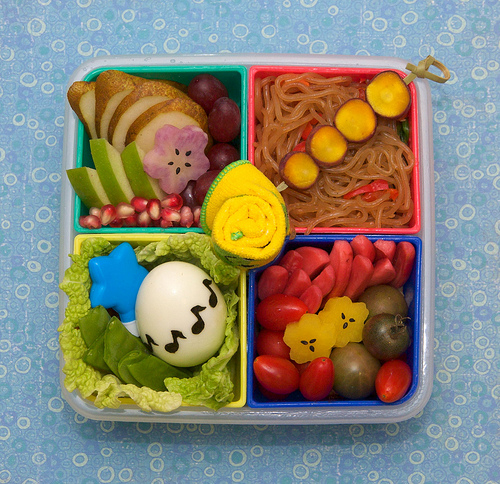 A few weeks ago, son started attending a new pre-school. I knew with a mother's intuition that he'd do well. What I worried about most was his lunch box.
You see, I secretly feared that he only ate my cooking in my presence. To spare my feelings. Out of sight, I wondered if he'd stealthily dump the contents of his BPA-free box into the garbage can, or worse, pay some business savvy 3-year old in stickers and magnets for a trade.
Knowing that son dislikes grocery shopping even more than I do, I did major research before the school year started. I got a hold of every cookbook geared toward satisfying small stomachs. I coaxed ideas from more experienced parents, sneaking peeks into their grocery carts, watching what their little boys reach for in the aisles.
Learnings?
Insecurity can be a major motivator. I had very little confidence in my pre-school lunch-packing skills. Historically, some of my insecurities have made me run or hide. But this boy needs to eat so there's no shirking this particular responsibility.
Education saves the day. For some illogical reason (ha, what thinking-feeling being can't relate to this oxymoron?), I didn't feel that knowing my kid and what he likes to eat is enough to guide my oh-so-dark-still early-morning balanced meal plan execution. So, I taught myself what I didn't already know about portion sizes for the wee ones, what keeps well in an insulated pack, what can sit around for a few hours and stay fresh, what tastes great and doesn't require re-heating. I know. Any adult most likely already knows these things. But still, nothing beats insecurity better than a well-planned execution of a task.
Acting with love wins. Once I felt confident that I knew enough to build a yummy box, I was ready to play. Shapes and layers? Fun. Colors and textures? Absolutely. Flavors and nutrients? A must. Skewers and stems? Bring 'em on. When love rules a process, magic isn't far behind. I found out later that son's lunches were referred to as works of art and had on occasion been a point of discussion at faculty meetings. Fancy that!
Weeks later, I still pay attention to every detail that goes in to this little insulated pack. On the way to school, son and I play guessing game as to what's inside. It very often comes back empty with a short but reassuring little-voice evaluation from a satisfied customer. It's a small thing in the parental scheme of things. I know.
Nevertheless, it's a nice reminder that love, even when indirect, remote and packaged shut tight, can still be felt and appreciated. It's good to know, not just as a parent but as a human being, that love has an unstoppable rhythm — in or out of a box. Because all too often, it's easy to forget when things, when we, block its flow.
+++++++++++
Do you ever caution yourself from committing an act of love?
Do you ever struggle with letting love flow freely?
Do you make lunch boxes for little ones?
+++++++++++
Image by gamene