N
o
b
o
d
y
knew who she was. Diminutive. Tattered
clothes. Appeared homeless. She smelled of
the streets; unpleasant odors we'd spritz
with Glade. None of it mattered.
She got off; her effect lingered.
Everyone's still smiling since five stops
ago when she got on the
subway. For the record, someone else,
not I, called her presence angelic.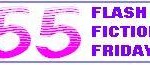 +++++++++++++
I'm getting frisky with Mr. Linky today, linking up with Six Word Fridays (topic: for the record) and with 55 Flash Fiction Friday for the first time!
For more #sixwordfridays, go to Melissa's lovely blog.
For more 55-word micro-fiction or #flashfiction, visit the One Shot Poetry team.
+++++++++++++