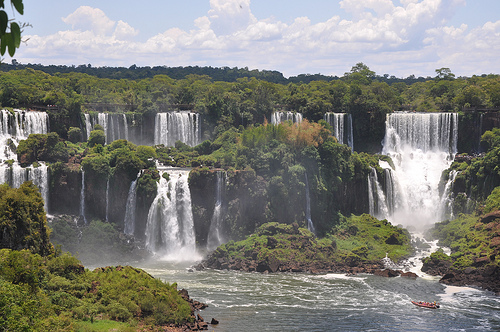 Flow. It's a pouring forth smoothly without overwhelm. It embodies calm and serenity. We know it when we feel it. When flow happens, we wish for nothing more to make it better.
Sometimes, we want something to flow so badly, making way for force to take over. This, I find, is rarely a good idea. It's akin to putting up a dam, the anti-flow.
I remember a friend telling me about her saga with playing the piano. She showed a love for it early on and her parents encouraged it. In a few years, she put in her 10,000 hours and became a virtuoso player. In the meantime, her parents jumped at every opportunity to show off her expertise. At people's homes, recitals, community events, etc. Soon, her love for playing soured. She began to resent having to perform on command, being lauded for her unmatched skills, being seen as first and foremost a pianist. As an adult, she disengaged completely from her piano-playing persona, making it nothing more than a story to tell from her past.
Knowing how flow turned into force saddens me about my friend, and yet I understand it. She has so much more to offer the world besides playing concerto music. To be reduced to one thing is not how any of us deserves to be seen. Not when there are many facets of her gem, her life, shining from other angles.
Flow does not like to be psycho-dialed. It cannot be forced. I find that when I force things, flow evaporates. Tension sets in and envisioning a smooth becoming becomes a faint memory. When actions are over-eager and words are harsh, we get into starts and stops. On this rainy autumn day, sodden spirits somehow lift as I sift through soggy facts and extract insight.
To live a life that we want to live, I believe there is always effort involved. But flow, how do we let it be? Here are a few do's and don'ts that are playing out today:
Don't try to control everything. Not because we can't, though we can't. Instead, because flow and control mix like water and oil. Flow cannot be controlled and control clogs flow.
Don't turn primal and give in to anger. Anger, though a human reaction, does not attract flow. When negative emotions run high, cohorts walk on eggshells, children cry, . The negative effects of anger are bad for anyone's health and well-being. Instead, chill. It's almost always the best panacea for anger.
Don't be reactionary. When I'm reactionary about something, I never feel like I'm able to catch up. I'm in fix-it mode instead of improve-it mode. I may be putting out fires by being reactionary, but the real question is how could these fires have been prevented? While I don't believe a life without reactions is possible, instead, cultivating awareness and big-picture thinking encourage flow. Having a broader vision allows us to become better at projecting where the leaks and fractures will come from. Cluelessness and microscopic vision, however, do not.
Do take action from the heart. Doing something with love breathes flowing life-giving energy that no obligatory action ever can.
Do practice. The mere fact of being alive sets the stage for quite a bit of this because, let's face it, how often can we get anything done right with one take? (Okay, supposedly Clint Eastwood does when he's directing a film, but he's had a lot of practice, right?)
Do be patient when flow is slow-going because, as Jada and Will Smith's son has shown us in the recent Karate Kid film, it can't be rushed.
+++++++++++++
How do you attract flow?
What blocks flow?
+++++++++++++
Image by over_kind_man