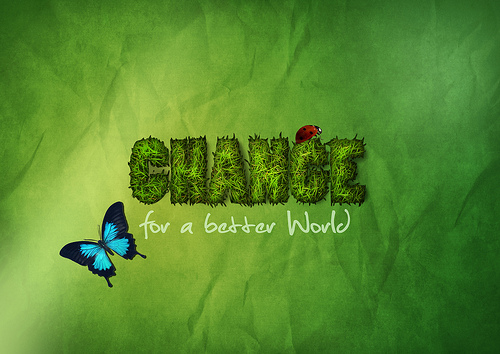 C
H
A
N
G
E
Has won some battles against inertia
For people from Africa to Asia
It's a notion evoking much contradiction
When it arrives there's always friction
Of its ill-effects, critics make predictions
It polarizes people, yet it's neutral
Growing up in life, it's central
I admit it can be brutal
but clutching same-ol' same-ol' is…futile.
++++++++++++++
C
H
A
N
G
E
takes its time with dreams deferred
slow to listen to those unheard
hops to it with Visa preferred
flies lightning speed for Twitter bird
de-fogs glass windows that have blurred
throws curve ball at facts confirmed
mocks urban comforts, turns things absurd
sometimes acts like a four-letter word
when time comes, its arrival undeterred
++++++++++++++
C
H
A
N
G
E
A polarizing little word, it is.
Some love it, others hate it.
It's less harmful than eating butter.
It's less painful than natural childbirth.
It's more exciting than status quo.
It bucks tradition.  It exalts innovation.
Change is a bit like technology.
They both get a bad rap.
Time to fire their PR team?
++++++++++++++
Nothing wrong with your eyesight.  There are three takes on CHANGE here, Melissa's prompt for #sixwordfridays.  G-man, you get three #fridayflash55s, too!  Hope you like!
Three questions:
What words come to mind when you hear the word CHANGE?
What would you change right now, if you could?
What would you like to remain just the way it is?
++++++++++++++
Image by lost-winterborn