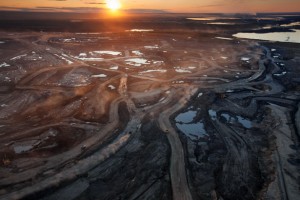 Wrinkled, charred and wounded,
I breathe labored breaths yet again
For another day of
Hopeful healing.
The air, thicker now than long ago,
Scented with your past offenses,
Taunting me with thoughts
Of cleansing wholeness once again.
Your plea for forgiveness,
Once-upon sincerity,
Echoes of empty cries,
In pools of tar sands drowning.
Your insatiable cravings
For barrels of mega- XL proportions
Fast track this transaction
A most dire blood transfusion.
Drip-drip-drip
And a final full-blast gush
Down the pipeline to extinction,
remnants of my lungs collapsed.
++++++++++++++
"The environmental impacts of tar sands development include: irreversible effects on biodiversity and the natural environment, reduced water quality, destruction of fragile pristine Boreal Forest and associated wetlands, aquatic and watershed mismanagement, habitat fragmentation, habitat loss, disruption to life cycles of endemic wildlife particularly bird and Caribou migration, fish deformities and negative impacts on the human health in downstream communities"….."Phase out of emissions from coal is itself an enormous challenge. However, if the tar sands are thrown into the mix, it is essentially game over." — Dr. James E. Hansen is director of NASA Goddard Institute for Space Studies in New York City and adjunct professor in the Department of Earth and Environmental Sciences at Columbia University.
The environmental community is up in arms about the impending approval of building the 1600-mile Keystone XL, a pipeline to transport tar sands from Alberta, Canada to Texas refineries. A group of U.S. and Canadian environmentalists circulated a letter inviting everyone to march in front of the White House starting in mid-August until the administration listens.
+++++++++++++
Does the economic need to create new jobs justify the building of Keystone XL and all the environmental impact that goes with it?
What about the prospect of reducing the U.S.'s dependence on Middle Eastern oil?
For One Shot Wednesday, Happy first birthday, One Stop Poetry!