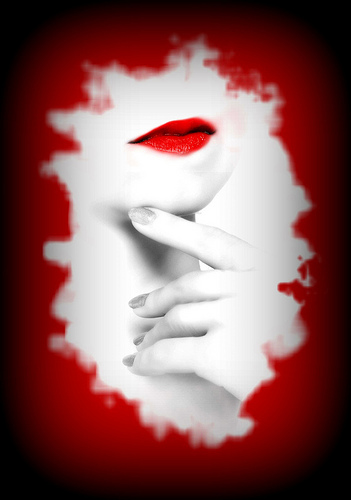 Lust is the fourth of a series of five topics for Momalom's Five for Ten.
Picture a sweet young boy.  Smart.  Loves his parents.  Struggles with algebra.
His twelfth birthday rolls around and bam!, his good brain is suddenly immersed in thick soup.  Love for parents is shaded by stiff silence.  As for algebra class, the only detail that looms large in his memory is the word bra and how he is attracted to or repulsed by it.
LUST
A four-letter word.  Though not technically a curse word, its bane lies in being listed as one of the Seven Deadly Sins.  It is lumped in with pride, envy, gluttony, anger, greed, and sloth.
A Deadly Sin?  Yikes!  This cannot be a comforting thought for a pubescent boy (or girl), thrust in the vortex of an unstoppable transformation.  It's tough enough to grow several inches in one summer.  Or have one's vocal pitch drop and rise an octave within a breath.  After twelve years, seemingly out of nowhere, this boy begins to feel things, urges and desires, he has not felt before.  Who needs the added stress of being told these feelings are A Deadly Sin?
Have we forgotten how tough it was to feel as though our body belonged to an unknown force?
Why do we stigmatize Lust when it is as natural as coughing when there's a tickle in our throat or sneezing when we have a cold?
A DIFFERENT APPROACH
There has to be a better approach instead of condemning Mother Nature.
Instead of viewing Lust as a fatal flaw or the end of humanity, why not frame Lust in the company of Passion and Love?  That's right. Put Passion and Love in the mix as sort of mentors to Lust.  Lust is fervor.  Passion is seasoned fervor.  Love is timeless fervor.  With Passion and Love in the arcs of this frame, would sin have a stronghold?
What if we called this frame the Three Lifegiving Arcs?  Would the Seven Deadly Sins have a fighting chance?
If we embraced this frame, maybe then we, humanity, could attract and experience more good and less evil?
++++++++++++++++++++
Does humanity have a penchant for doom and gloom such as The Seven Deadly Sins?  If so, can we do better?
++++++++++++++++++++
Image by Sarah G…