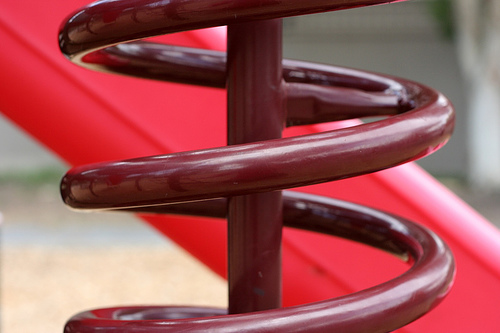 The other day, my son learned a new word.  The word?  Responsibility.
My reaction upon learning this was one of profound dread.  It may be because I have neurotic tendencies.  It may be because it has long been a buzz word for me, reminiscent of times when sensibleness dueled with playfulness and somehow won, leaving me with, well, very little fun.  Whatever the reason, my first thought was, oh no. Only three years old and already burdened by a grownup concept.
No, I don't think responsibility is a bad word.  But I realize I use the word grownup to mean boring.  So, before I offend anyone, hear me out.
HOW A TYPICAL CHILD PLAYS
My son, like most toddlers, is lustful for, passionate about and in love with play.  He wakes up with only one mission to fulfill and that is to have fun playing.
When we venture outside, he finds a way to savor his every step on the sidewalk, down every block, on the way to the mecca of play: the playground.  As he scales the sidewalk, he is running as fast as he can, or singing a song, or laughing at his own silliness, or examining everything along the way that looks mildly interesting.
Once we're at the playground, imagine what a kid is like around structures built for play.  Jump up and down?  Of course.  Swing back and forth?  For sure.  Slide down and climb up?  Yes and yes.  He makes overtures at other children and grownups, because, simply, shared playtime is fun.
When we stay indoors, the lack of a playground does not deter him.  He plays with his toys.  He plays with cookware and rolling pins and other things that aren't toys.  And when he's done playing with toys (and things that aren't toys), he sets a stage, real or imaginary, and makes up scenarios, characters and stories.
And the playing continues…
By the end of the day, he, just like a typical child, will have laughed about 150 times.
HOW A TYPICAL GROWNUP PLAYS
Grownups, on the other hand, play a bit differently.  We wake up with a jumble of thoughts.  We rush around, downing venti-sized cups of caffeine, before we can muster a half-smile or a civilized half-hearted morning hello.
If we go outdoors, we tackle our lists of what to do, what errands to run and places to go.  We fill our heads with thoughts of and theories on being good people doing great things, achieving impressive feats, fulfilling impossible dreams.  For a moment, our souls stir.  And then we remember our competition.
Do we examine things that are mildly interesting along the way?  Ha!  Not a chance unless we're on vacation (or have just read an article linking happiness and slowing down).
If we stay indoors, not much changes.  We tackle our lists of what to do, what chores need attention, what phone calls to make, what bills to pay.  If we indulge our imagination in a little make-believe, most likely, we make up worst-case scenarios, wreaking havoc on our recession lines (or is it our blood pressure?), in the name of being proactive, you know, just in case.
If we make overtures to play with other grownups, chances are these play dates are scheduled way in advance.  And when the day comes, I'm only guessing, the activities are roughly sketched out (dinner?  movie?  music?) while spontaneity will have to force itself into the moments.
And the playing stops and starts…
Sometime during the course of the day, grownups will have laughed five times at the most.
BACK TO THE WORD RESPONSIBILITY
Play, sadly, often gets squeezed out of our grownup days as we get caught up in a cycle of doing.  A cycle of responsibility that leaves little to no room for genuine, spontaneous play.
I really don't have anything against responsibility.  It's practical, inevitable and necessary.  It's what we hope every person will learn when he or she grows up.
But while my son is growing up, toddling about in his tiny body, I would rather he learn the word frolicsomeness, tomfoolery or shenanigans.  Because these words make his eyes sparkle.  And this is the only shot my son gets at having a childhood.
He will grow up, just like the rest of us.  And I hope that one day, he will practice the concept of responsibility.  But only after his childhood is thoroughly drenched in play.  Long and deep enough to make it stick, with no chance of it getting beaten out of him.
Because those grownup years?  They can be long and deeply entrenched in responsibility.
++++++++++++++++++++
How do you play?
Does play make your eyes sparkle?  Does responsibility?  Is play part of our responsibility to ourselves and others?
Assuming you are responsible , do you remember to play regularly?
What season do you think is the best season for play?
Must we lose our playfulness as children as we learn to practice responsibility as grownups?
++++++++++++++++++++
Image by macinate