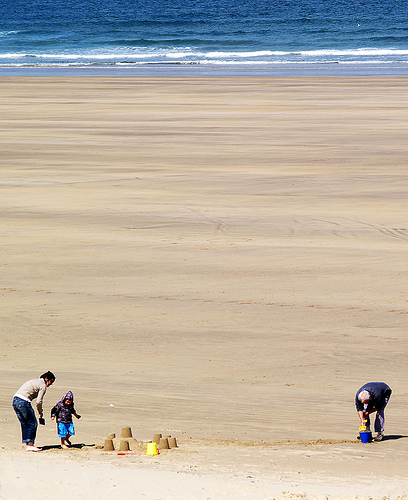 Last month, I completely blew my budget.  I'm no spendaholic but a few unexpected bills here and there predictably did the job.
Somehow, the end of the month had me rifling through my mental rolodex for generous friends and family from whom to bum free meals and entertainment.  Thankfully, I received invitations before I could concoct a reason to crash other people's homes and plans.  (I've learned three years ago that a cute kid in tow gets me invited to lots and lots of fun and free things.)
These last few days had me pondering the finer-yet-free things and life.  Wouldn't you know it, I came up with 100+ things, some of which are weighty and others, light:
NATURE
fresh air
water (oceans, lakes, etc.)
the beach
white/black/green sands
waves big and small
whales/whale-watching
birds/bird-watching
seasons
sunshine accompanied by a cool breeze
aurora borealis
plant growth from seedlings
panoramic views
fresh green blades of grass (for walking barefoot or napping)
ALL THINGS PEOPLE
conversation
flirting
bonding
laughter
forgiveness
friendship
a support system
advice from trusted friends
strangers performing unexpected acts of kindness/paying it forward
SELF-ENRICHMENT
library books
search engines
choosing positivity
music
exercise
thoughts, thoughtfulness
looking within and listening to oneself
skills
practice
ALL THINGS GIRLIE
sisterhood
motherhood (well, it costs a little bit)
femininity
feminism (almost free)
feminine wiles (free +)
girl talk
hair flipping
cleavage (real or illusory)
ALL THINGS MANLY
masculinity
a deep, resonant voice
fatherhood (costs about as much as motherhood)
guy talk
big, strong hands
socially accepted facial hair
Musculus pectoralis major
ALL THINGS PHYSICAL
yoga
running
swimming (alone or with dolphins)
dancing
walking
bike-riding
kickboxing
martial arts
municipally-run playgrounds and parks
dining al fresco
touch
holding hands
intimacy between two people
WONDER OF WONDERS
ancient ruins
ancient hieroglyphs
history and historical figures
the wings of a hummingbird
hugging your child
wandering aimlessly while humming a happy tune
stumbling and getting up again and again
MIRACLE OF MIRACLES
lessons from Fiddler on the Roof
birth and babies (free for most species except humans in developed countries and zoo animals)
holding a baby
receiving gifts
gratefulness
sharing/generosity
every day and every night
CEREBRAL/PHILOSOPHICAL AND MORE
fond memories
mental math
learning
language(s), verbal, unspoken, body or dead
un-learning less-than-good habits
reasoning/critical thinking
rationalization
literacy
interpretations (of the law, of stories, of facts, circumstances, etc.) that foster freedom
finding/fashioning loopholes (in order to play more, laugh harder, live better, etc.)
questions and answers
seeking and finding
MATTERS OF THE HEART
a crush
being in love
love
commitment
devotion
loyalty
ALL THINGS CREATIVE
dreaming
daydreaming
fiction stories
songwriting
fantasy
imagination
illusion/magic
problem-solving abilities
street performers
window displays
free museum days in most major U.S. cities
sandcastles and rock sculptures
THINGS THAT ARE FIERY
a bonfire
tango
your spirit
inspiration
the stars, shooting stars
chili peppers from your (or your friend's) garden
+++++++++++++++++
What free things make you happier?
+++++++++++++++++
Image by johndal