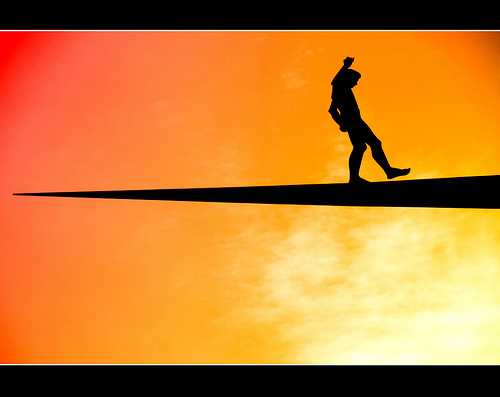 Balance is a challenging word for me.  Most days I shrug it off when it's being bandied about around me.  Some days, I sneer when I hear it, especially when I feel it's being pitched to me.
Oh, I've been seduced by it to be sure.  It beckoned like a five-and-dime store to a bargain-hunter when I worked long days several jobs ago.  It made me resentful of my work days, as productive as I was in those hours.  And when I did get some play time, I was too exhausted to do anything, knowing deep down that balance wasn't synonymous to veging out.
Now?  I've grown cautious of its lure.
MY BEEF WITH BALANCE
Back in the day when I thought I lacked balance, I chased it not knowing exactly what it looked like.
Did it mean less travel?  If so, then why did I still want to travel for pleasure?  Did it mean shorter hours?  If so, then why did I do volunteer work on the weekends?  Did it mean more quality time with people I love?  If so, then what of me enjoying myself during dinner and cocktails with clients and colleagues?  Wouldn't it be a bit snobbish to think that, though I enjoyed the company of those inhabiting my professional world, what I really wanted, needed, was more time with family and friends?
I wasn't sure what balance meant.  And yet, I felt strongly that I needed it and held the concept close like a dirty politician clings to power.
IS BALANCE A WET BLANKET?
Balance sounds attractive when we're neck-deep in unpleasant tasks, endless drudgery or even simply the grind of an ordinary work day.  It may even be enticing enough to want a different life or at least to make some minor to drastic changes.  Consider men (and statistically less frequently, women) and the surprising/vexing stunts they pull during a mid-life crisis.
Still, I wonder about those among us who are driven to follow their passion, to fulfill their mission, to heed their calling.  What about artists who choose the path of starvation in order to produce masterpiece after masterpiece, giving themselves wholly to their creative journey?  What about students who take out exorbitant amounts of loans which they'll pay back in excruciatingly small monthly installments for many years after graduation?  What of those bleeding hearts who could be making a decent sum and living comfortably but instead, choose to toil in a developing country, living in poverty, risking their lives in hopes of saving those of others?
Would balance steal their thunder?  Would they even want balance?  If so, what would it look like to them?
Is balance — as thoroughly as the notion has penetrated not only our vernacular but also our ever-growing list of wants and needs (at least in developed countries) — nothing more than a wet blanket that threatens to snuff out the fire within us?  And, I hesitate but wonder, could balance be a marketing ploy (that somehow took off like wildfire) to sell "well-deserved" vacation packages, penthouse suites, first class airline seats, luxury goods, and any other commodity that takes the edge off the paid or unpaid work that we do?  Work that, grind or not, gives meaning to our days, makes us feel needed, reminds us of our irrevocable connection to others (as separate and lonesome as it sometimes may make us feel)?
SEEKING AND FEEDING MY CENTER
Balance is a challenging word for me.  I chased it.  I don't know if I've ever had it.  I'm afraid it's still out there, poised if I let it, to have me running, twisting, spinning, contorting and juggling about like a circus act.
What I prefer, after my futile attempt at defining/gaining balance, is to seek my center and to feed it.  Why?  Because it's there.  Within me.  It lets me know when something doesn't feel right.  It tells me it's possible (and okay!) to love work as much as play.  It helps me see light in a dark place.  It whispers the truth when the chatter of lies surrounds me.  It grounds me in authenticity when artifice threatens to besiege me.
Balance?  I don't know if I'd recognize it.
My center?  I think I've got a handle on it.  And I know for sure it won't desert me.
+++++++++++++++++++++
Do you think about balance?  Is it real?
Do you want it?  Do you have it?
+++++++++++++++++++++
Image by Wollbinho