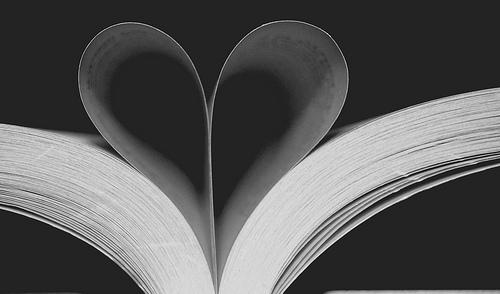 I started an affair.  My heart soared those first few moments.  Every night and every morning, I would sneak delightful minutes to indulge in this affair.
OOOPS
And then, without warning, our dynamic changed.  We hit a wall.  My object of affection suddenly lost its appeal.  I began to question my motives.  I started to doubt my capacity for commitment.  Our little sessions began to feel less of a pleasurable encounter and more like an endurance test.
And so, today, I've decided to put an end to my misery.
The object of my misery?  A fiction book that I picked up months ago.  The halfway point.  That's as far as I got before admitting defeat.
I started to think it was me.  That I'm way too shallow, distracted, unsympathetic and lacking a real love of fiction books.  (I did take a break from them for a long time.)
But, I had a therapy session with myself and decided that it's not me.
FROM DECISION TO ACTION

Oh how I thought it was me.  After all, it's written by a highly-acclaimed author whose one other book I loved.  I was sure I'd inhale it in a few nights.
And I really did give it the old college try.  I slogged through chapter after chapter, drifting in and out of sleep.  I cheated with several other books which I began and ended with ease and enjoyment.  At the end of each, I'd go back to to that first book, hoping for a rekindled perspective.
But it never came.  Not a chuckle.  Not a snort.  Not a tear.  Not a peek into a window of enlightenment.  Not the slightest bit of caring from the emotional creature that I am.
So, I'm done.  I'm shelving it.  Letting go and moving on.  Closing the book, so to speak.
DOUBT AND CERTAINTY
I have a hard time admitting defeat when I read a book.  I think it's disrespectful to the author(s) and I'm often inclined to think it's just me being lazy when a book doesn't grab me.
But, having lived through my share of volumes of required and unrequired reading, I'm learning that books are very much like other life experiences.  Some will tap into that universal well of emotions that make us feel celebrated and connected to one another.  Some will challenge us and draw a hard line between us and them.  And some will fail to make that connection except for alongside those with a spine and a cover on a bookshelf.
I doubt that this author would be surprised that I put her book down, unfinished and unloved.
I am certain that this does not in any way diminish my appreciation for fiction books, works of art that they are.  And certainly, it does not make me less sympathetic to real life characters who live and breathe their own sets of doubts and certainties.  Just like me.
********************
I have a guest post over at Steven Aitchison's blog entitled Break Out of the Avoidance-Apathy-Regret Cycle. I *met* Steven through a blogging bootcamp before I had a blog and he has been a supportive friend to many bloggers like me.  Hope you'll check it out!
++++++++++++++++
Do you let yourself endure an activity because you think you should?  Because you think it's good for you?  Because you made a commitment to yourself?
Have you ever put a book down without getting to the end?
Do you think we should end what we start?  Do you believe that all beginnings have an ending?
Are we human beings designed to struggle with letting go and moving on?  How do you know when it's time to let go and move on?
++++++++++++++++
Image by deardarling.