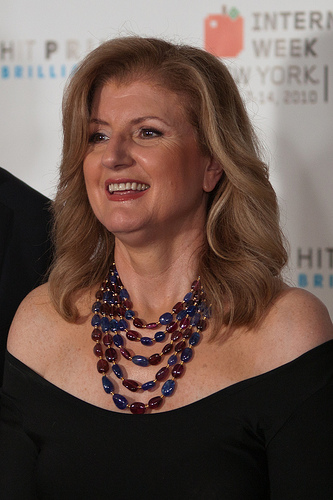 Last night, I had dinner with Dana Carvey.  Remember him on Saturday Night Live or in the movies with Mike Myers called Wayne's World?  We locked eyes for one brief second.  He, incognito in his baseball cap with a massive bill.  Me, picking up a wayward piece of chicken that flew off my son's fork at a family friendly joint.  It's possible that he heard me ask my husband, Is that Dana Carvey? while I stared and pointed at him.  Discreet is not my middle name.  His table was next to mine but, though we didn't officially dine together, I'm not technically lying.  (Buckets of rationalization, anyone?)
But seeing Dana Carvey last night reminded me of hearing Arianna Huffington speak last week.  You may know her blog called The Huffington Post.  I don't know how the wiring works for this but it must've been as simple as one celebrity reminding me of another.
Arianna was the keynote speaker for EmergeAmerica's annual event.  EmergeAmerica is a national training program for progressive women who wish to run for public office.  My friend was being honored as their Woman of the Year that night and so I had to be there.
Arianna was witty, funny and eloquent, just as I expected.  She earned a standing ovation which was not a surprise given all the feel-good sound bytes she had to say.  She even used Seth Godin's term lizard brain which went over particularly well with many of Seth's followers in the crowd.
Here are some paraphrased excerpts from Arianna's keynote speech that stood out:
Empathy is a survival trait.
Hearing another person say this gave me a warm glow.  On the occasional days when the words unlovable, impossible and undeserving are synonymous to my name (Oh, now, I'm sure I'm not the only one who's this hard on myself!), empathy from someone, anyone feels a lot like a lifeline.  In less melodramatic terms by the Dalai Lama, if you want others to be happy, practice compassion. If you want to be happy, practice compassion.  I buy this.  If you do, too, please help spread the word.
Lack of wisdom is what's missing in leadership.
Arianna said this not in the context of attacking President Obama (she was very careful and tactical about this).  It was more of a plea to remind us that when followers blame the leader for not fixing what is broken, it is no different from abdicating their potential to become leaders in their own way.  It definitely had a tough love tone to it that she pulled off elegantly.
The only antidote to depression is action.
I don't know about you but it does seem that when all I do is sit around feeling blue, I sink deeper into depression.  Have you experienced this?  While I fully grasp the benefits of silence and introspection, it is only in doing something that makes the hues of blue slowly turn into tints of pink.  Is  this why we're fanatical about getting things done?  Another post, perhaps.
Humans will do the right thing when they have exhausted all other possibilities.
I'm not so cynical that I believe this, but it does appear that we are capable of finding solutions to our problems.  Have raw meat?  Make fire.  Leftovers too good to let sit?  Refrigeration to the rescue.  Hallways too dark?  Hello, light bulb.  And yet it's also true that humans create their own problems but we will get into this in another post.
I don't at all doubt Arianna's role as a force in the media.  She's quick, witty and confident in person.  It's very possible that she's faking it the whole time, but don't we all fake it at different times in life?
As wonderful as Arianna's speech was, the standout of the night for me was a line from another speaker.  She's a retired military veteran LGBT who spoke eloquently about why she wants to run for office.
If you don't have a seat at the table, you are probably part of the menu.
This speaks to me as someone who fails to understand those who complain loudly but refuse to vote.  Sorry.  I just don't get it.  And neither does Arianna.
++++++++++++++++
+++Factoid: Did you know that the U.S. ranks 84th in the world for female representation in elected office?  Yup.  Behind Mexico, China and Pakistan.  Women make up just 17% of the U.S. Congress.  Who's #1? Rwanda, the Land of a Thousand Hills, where 56% of their parliamentary seats are held by women.  (Keep in mind that many men in Rwanda were killed in the 1994 genocide.)
What do you think about this factoid above?
Do you think men are ready to see more women in power?
What are your thoughts on the saying that goes women work twice as hard for half as much?
Do you think there is a fundamental difference between men and women when it comes to leadership skills?
Is the only way for women to rise to power after a genocide?
Do you read or write for The Huffington Post?
+++++++++++++++++