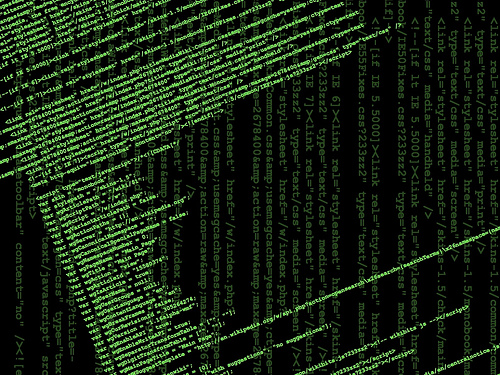 We are surrounded by many things that are subject to interpretation.
Take art for example.  I once saw foot-high piles of old newspapers bundled together and shoved against the walls of a room in a museum.  It was part of an installation that may have been a statement about the controlled state of the media.  Or perhaps it was a statement about the pieces of information carefully chosen for public consumption.  It could have been an assertion of how the proverbial truth often hits a wall.  I really can't remember.  Is it art?  Some may say yes.  Others may say no.  Does it belong in a museum?  Clearly this question didn't matter much as it was displayed in a museum.
In the same vein, we often spin real-life events with our own subjective interpretation.  So and so should never have been commissioned to do such and such.  I can't believe they picked so and so over me. And yet, what's done is indeed done.  Still, it can be very hard for us to accept the facts.
***
And then there are myths that we believe.
We all have faults and weaknesses.  Some appear to be real.  Others are imagined.  Who's to say if something is a fault or a weakness?  Us and others.  Yes, we're experts at making judgments about these things.  Us in that we react to a seemingly real or imagined fault or weakness if it blocks our path or frustrates/challenges us in some way.  Others in that the moment they recognize these traits to be less than an advantage, these traits are judged and called faults or weaknesses.  But these so-called faults and weaknesses, are they subjective (like art, perhaps)?  Consider folks like Muggsy Bogues.  Clearly, some perceived shortcomings (pun intended, Muggsy is 5′ 3″ but his height did not keep him from joining the NBA) do not get in the way of their greatness.
***
Speaking of greatness, what about humanity's evolution?
We have this well-practiced habit of lamenting our condition (read: bitch and moan about ourselves and each other).  But I keep coming back to the fact that we all have seemingly less than flattering facets within each of us.  You.   Me.  And everyone we do and don't know.  Does it do us any good to demonize our imperfections? They're part of us and have been since the beginning.  And all signs point to us not evolving into perfection anytime soon.  So, why not celebrate what's good about us? At least a few times a day.  Yes.  I know it's tempting to critique the faults because many are glaring and constant.  And how about the bonus of feeling like we're oh so knowledgeable when we can pick out exactly what's wrong, huh?  But I must say, I for one could use the uplift.  Couldn't you?
++++++++++++
Is how we interpret events in our lives a form of art?
How do you remind yourself of what's good about us?
What do you think about how humanity evolves and our tendency to demonize our imperfections?  Do we celebrate our strengths enough?  Do we have to do both in order to evolve?

How do you deal with humanity's flaws?

+++++++++++++
Image by Marjan Krebelj