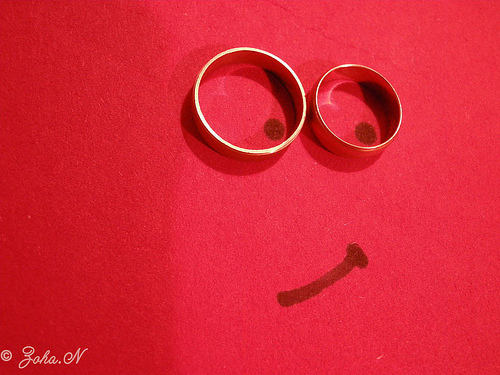 I promise not to talk about the Gores.
Tomorrow is a big day for my clan. We will be celebrating my parents-in-law's fiftieth wedding anniversary.
And because I married into a family of fun people who are genuine lovers of life, there will be a party hosted by their children and their partners. A banquet will be shared. Wine will be flowing. Toasts will be given. Music will be playing. And naturally, there will be plenty of reason to put on those dancing shoes.
DISCUSSING MARRIAGE
I've shied away from discussing marriage in this home of mine in cyberspace. I have attended and cried at many weddings and have seen a few fall apart. The former, always beautiful and marked with hope and promise. The latter, punctuated with a heavy heart and a question mark about the future.
Knots are tied. Ties are severed. Both occasions are filled with raw emotions and for each, I seem to find myself saying the same thing: I wish you the best. What happens in between? Like parenting or living, there is no scientifically proven foolproof way to do it right. It can feel like the flow of a rhythmic dance on sometimes slippery and uneven floors with starts and stops and cycles back again. For others, it's something else entirely that leads them off the floor and out the door.
MARRIAGE EQUALITY
Can an institution constitutionally discriminate based on sexuality? By no means is marriage for everybody. Many actively reject it and don't pretend to want to subscribe to something that doesn't support their lifestyles. Many choose something else. But who's to stay who can participate and who can't?
Many years ago, I read a book called Same-Sex Unions in Premodern Europe. It's a scholarly book that I can't do justice describing but its basic premise is that same-sex unions were common, accepted and even not at all a big deal in premodern Europe.
So, what happened? Did we take a few steps back here in the U.S.? If all people are equal and equal rights are for all and marriage is a right, I can't help but wonder what the real reasons are for the lack of marriage equality. Apparently Laura Bush agrees with people like me. And so do the states of Connecticut, Iowa, Massachusetts, New Hampshire, Vermont and Washington, DC. (New York, Rhode Island and Maryland half-agree by recognizing it but not performing it.) This is all very encouraging considering how long social change takes. (Speaking of encouraging things, how about that $600 Billion Challenge instigated by Bill & Melinda Gates and Warren Buffet?)
WHAT'S LOVE GOT TO DO WITH IT?
Love, I think, has everything to do with marriage in the western world. Oh, I know. We bungle love, too, just like other things. But we try. And my parents-in-law are living proof that love and marriage combined can go very, very right. Fifty years, four kids, a fortune on diapers and birthday cakes, a billion times of kisses, hugs and hand-holding and truckloads of love, patience, commitment, loyalty, respect, forgiveness, understanding, acceptance, compassion, tears and laughter.
While we mere mortals on earth may never know what permanence truly is, matrimony for these two people sure bears a strong resemblance.
++++++++++++++
Do you know any couples who have been married for a very long time?
Do you have any recommendations for the opening song and for the closing song to dance to?
Have you ever danced drunk at a wedding party?
++++++++++++++