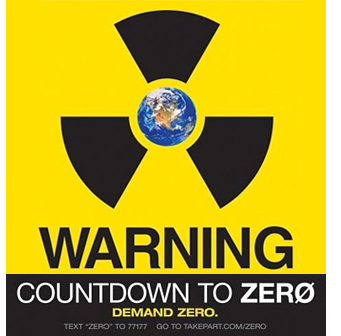 Last night, I attended a pre-screening of a new documentary called Countdown to Zero, a film about the history and proliferation of nuclear weapons, their threat, and where they stand today.  Ploughshares Fund, a non-profit organization dedicated to achieving a safe, secure, nuclear weapon-free world, sponsored the event.  I braced myself for yet another doomsday type of film.  After all, it was made by some of the same producers who brought us Al Gore's An Inconvenient Truth.
THE FACTS, THE GOAL
The film opens with illustrations of an atom splitting.  I fully expected my senses to be assaulted with loud explosions and tearful accounts of its effects on humanity and on the planet.  That was not to be.  Instead, it shows random citizens taking wild guesses on which countries possess atom bombs and how many there are.  Some younger citizens openly admit that the never think about the threat of a nuclear war (or nuclear accident, a possibility that exists as long as nuclear bombs exist).
It recounts the beginnings of the atom bomb, showing how simple it is to make and how the most elusive piece is the acquisition of uranium or plutonium required to build it.  An ensuing segment shows how easy in fact it is for a common citizen working in a uranium factory to steal small amounts without anyone noticing.  This man successfully steals one and a half kg. of uranium.
It includes poignant footage of Robert Oppenheimer's nearly tearful recitation of a passage from the Bhagavad Gita in reference to the Trinity detonation in New Mexico.  It also includes a challenging question leveled at the U.S. by Iran's current president Mahmoud Ahmadinejad, if it's bad, why do you have it?
At the end of the film, I hung around to listen to a panel of nuclear weapons experts discuss the film further.  One of the members of the panel was Richard Rhodes, author of the 1988 Pulitzer and National Book Award winner The Making of the Atomic Bomb.  Rhodes reflected on the axiom of proliferation according to Richard Butler, Australia's ambassador for disarmament 1983-88, ambassador to the UN 1992-97 and head of the UN Special Commission to Disarm Iraq 1997-99.  The axiom states that as long as any state holds nuclear weapons, others will seek to acquire them. Sure enough, the film shows citizens in China, Israel, India and Pakistan celebrating as soon as they detonate their first atomic bomb, a few years after the U.S. first dropped Little Boy and Fat Man on Hiroshima and Nagasaki in 1945.
The goal of the film as well as the members of the panel of speakers is to urge citizens to put the pressure on governments of all countries possessing nuclear weapons to reduce the number of nuclear bombs from 22,500 to zero.
WHAT IFS, THE HOPE, FOR WHAT IT'S WORTH
Though the film stays true to the facts of the subject, there are what-if scenarios that make the countdown to zero (zero nukes that is) all the more urgent.  What if mistakes are made in handling or storing these existing nuclear weapons?  What if there are organized efforts to steal uranium and plutonium from plants by terrorists?  What if there are more backdoor deals going on, similar to what was done by A.Q. Khan, Pakistani nuclear scientist allegedly responsible for Iranian nuclear programs?
This film is critical and timely today, a few months after President Barack Obama and Russian Federation President Dmitry Medvedev signed the new Strategic Arms Reduction Treaty (START).  In the next few weeks, the U.S.  Senate ratification of this treaty may or may not take place, depending on how much politics gets in the way of our collective wish to have a safe, nuclear weapons-free planet.
Let's hope there's enough Americans who will see this film and who will take action to urge their Senators to ratify START.  And, let's hope that Senators Kerry and Lugar can convince those on the fence that this is a non-partisan issue and can affect those outside the U.S.  If you're in the U.S. call your Senators and let them know that you are in support of this treaty.
I found the film, though tinged with an end-of-the-world undertone as is expected considering the nature of the subject, to have a surprisingly quiet overall feel.  Despite the reviews indicating to the effect that it is yet another fear-mongering film designed to keep us awake many nights after seeing it, I thought it was informative, factual and objective.  I highly recommend seeing it to learn the facts of nuclear weapons and their existence today.
BONUS
For a trailer of the movie, click here.  For a list of initial release dates in the U.S. click here.
For a list of countries and the number of nuclear weapons being stockpiled, click here.
To sign the global declaration to eliminate nuclear weapons wherever you are on the planet, click here.
++++++++++++++++++++
Thoughts, feelings and reactions are welcome and encouraged, as always.
++++++++++++++++++++
Image courtesy of Countdown to Zero