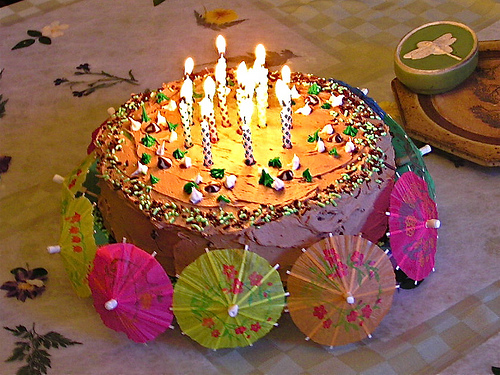 OLD TIES
I'm amazed by how strong old ties can be.
Decades fly by.  Memories upon memories pile up, are stored, then retrieved or forgotten over time.  Old ties get buried by distance.  Distance in the land or seas traveled, new people met, untrained feelings felt or denied, uncharted realities unfolding, demanding urgent attention.
Yet those old ties, seemingly forgotten, un-nurtured and devoid of face time, delight me in the way they sometimes spring back and get tugged at with the slightest provocation.
***
NEW TIES
New souls are born or re-born.
New ties form, often through the sheer effort of making it through the next day.  Each new person with whom we create ties, one in billions of possibilities, is special and unique, whether random or deliberate, whether prized or neglected.
These new ties.  They have a way of turning into old ties.  Sneaky, sneaky.
***
BIRTHDAYS
Another year older.  Each year.  Clockwork.
A celebration of birth, in any year, is a sort of rebirth in its own way.  A thrust onward into a vast future of more ties — fledgling, strong, weak or broken — that help shape who we are.  And what better reason to strengthen old and new ties than birthdays.  Each birthday, one in an achingly finite number, is special and unique, whether celebrated or ignored.
A humbled but heartfelt birthday wish and a hopelessly inadequate thank you to the one and only woman without whom my old and new ties, whether blood or water, could never be made: my mother.
+++++++++++++++++++++
What are your thoughts on the ties that bind?
Have you ever rekindled forgotten ties and been surprised by how strong the bond still is?
Do you celebrate birthdays? Yours or those you care about?
+++++++++++++++++++++
Image by normanack